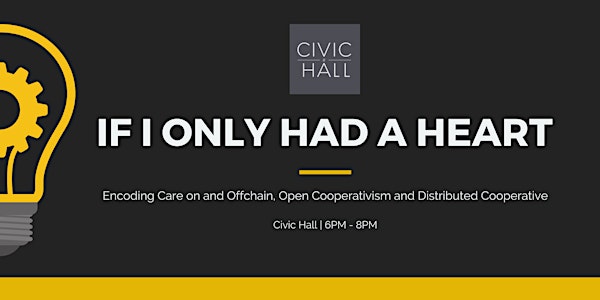 "If I Only Had a Heart" Encoding Care on and Offchain
"If I Only Had a Heart" Encoding Care on and Offchain, Open Cooperativism and Distributed Cooperative Organizations
When and where
Location
Civic Hall 118 West 22nd Street 12th Floor New York, NY 10011
About this event
Too often, the necessary care work that generates and sustains our lives occurs at the margins of the economy, unaccounted for and under-recognized. Spain-based activist Stacco Troncoso is part of a movement to change that. Troncoso (Guerrilla Media Cooperative, Commons Transition) is part of a collective developing a new model—the DisCO, or Distributed Cooperative Organization. It's a set of organizational tools and practices for people who want to work together in a cooperative, commons-oriented, and feminist economic form. It's also an alternative to the logic of blockchain-based Decentralized Autonomous Organizations, or DAOs.
DisCOs bring together the worlds of the Commons and P2P, Open and Platform Cooperativism, Distributed Ledger/Blockchain tech and Feminist Economics together in a fresh, radical framework fit for addressing the challenges of the times. Read more about the DisCO concept at Hacker Noon.
Presented by Stacco Troncoso
Stacco Troncoso teaches and writes on the Commons, P2P politics and economics, open culture, post-growth futures, Platform and Open Cooperativism, decentralised governance, blockchain and more as part of the P2P Foundation, Commons Transition and Guerrilla Translation. He is the co-author of the recently released DisCO Manifesto. Find out more at stacco.works
More About the Event
Distributed Cooperative Organizations (or DisCOs) are a cooperative reaction to the individualistic and techno-deterministic Decentralised Autonomous Organizations (or DAOs).
DAOs are blockchain-based entities that execute payments, levy penalties, and enforce terms and contracts without human interaction.
By contrast, a Distributed Cooperative Organization prioritizes mutual support, cooperativism and care work among people and is a practical framework for Open Value Cooperativism. These are locally grounded, transnationally networked cooperatives focused on social and environmental work.
Open Value Cooperatives can be viewed as the experimental edge of the work of our allies in Platform Cooperativism movement, exploring convergences between the Commons and P2P movements along with the world of cooperatives and the Social and Solidarity Economy.