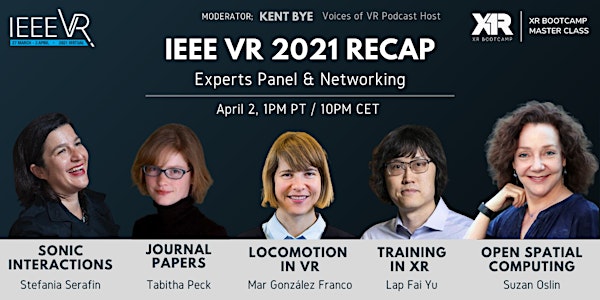 IEEE VR 2021 Recap: XR Experts Panel and Networking
Join us for a recap discussion of IEEE VR 2021, with an XR Experts Panel moderated by Kent Bye (founder and host, Voices of VR)
About this event
After a great week with many exciting topics and XR experts, we will wind down together!
As XR Bootcamp, we have been proud to support IEEE VR 2021, the premier research event on VR/AR/MR, along with Qualcomm, Microsoft, Facebook Reality Labs, Instituto Superior Técnico, Virbela, Immersive Learning Research Network, National Science Foundation (NSF), Appen, Vicon, Fakespace Labs, HITLabNZ, CIO Applications!
The workshop organizer will share the key takeaways of their workshop and the IEEE VR conference week.
Speakers:
Mar Gonzalez on Locomotion, Principal Researcher at Microsoft
In the last decade, numerous Virtual Reality (VR) locomotion techniques (LTs) have been invented, reinvented, combined, and modified. VR locomotion researchers discuss existing taxonomies and evaluation criteria for VR LTs, challenges in design and evaluation of LTs in such a rapidly-growing space, and potential community-driven tools and initiatives that can move the field forward.
https://locomotionvault.github.io/workshopieeevr.html
Stefania Serafin on Sonic Interactions, Professor & Head of Multisensory Experience Lab at Aalborg University Copenhagen
State-of-the-art research on the field of sound for XR environments. Discussion on how research in other related fields such as film sound theory, product sound design, sound and music computing, game sound design, and computer music can inform designers of XR environments.
Suzan Oslin on Accessibility, Experience Architect for XR
The goal of this tutorial is to introduce the participants to a high-level overview of the spatial computing ecosystem and how the Open AR Cloud Consortium is developing open solutions to help ensure equitable access for the benefit of all.
https://www.openarcloud.org/ieeevr2021
Lap-Fai (Craig) on Training in XR, Professor in the Computer Science department at George Mason University
Discussion on using the latest extended reality (VR/AR/MR) technologies for education and training purposes, and on creating immersive 3D virtual content for delivering effective and personalized training experiences.
https://sites.google.com/view/trainingxrieeevr2021
Tabitha Peck, Assistant Professor of Mathematics and Computer Science, Davidson College
IEEE VR 2021 seeks original, high-quality papers in all areas related to virtual reality (VR), including augmented reality (AR), mixed reality (MR), and 3D user interfaces (3DUIs).
Moderator: Kent Bye
Kent Bye is the founder and host of the Voices of VR podcast, and a keynote speaker, panelist, and moderator at international industry conferences including Games for Change, Silicon Valley Virtual Reality (SVVR), SXSW, and VR NOW.
Agenda:
1.00 pm PT (9.00 pm Lisbon time): Fireside Chat with the Hand Physics Lab creators moderated by Kent Bye
1.30 pm PT (9.30 pm Lisbon time): IEEE VR Recap Experts Panel + Q&A moderated by Kent Bye
3.00 pm PT (11.00 pm Lisbon time): Discussion continues in the Clubhouse Event hosted by the XR Family Club
We invite you to join the XR Creators discord and connect with us on clubhouse!
More info about our advanced VR Interactions Master Class starting on April 19 here.