Event Information
Location
Williams Village Conference Center
University of Colorado Boulder
500 30th Street
Boulder, Coloardo 80303
Description
The University of Colorado Blockchain Alliance is excited to announce that we will be co-hosting an event with the IEEE on February 3-4, 2020 that will focus on the applications of blockchain in the transactive energy space.
This 2-day event will feature It will feature keynotes, tutorials, peer-reviewed technical paper presentations, posters, demos, and exhibitions from world-leading service providers, solution vendors, research institutes, open-source projects, and academia. The Summit is a forum for the technical exchange of the latest research and innovation, regulation, policies, standards, and applications in the exciting and emerging area of blockchain for transactive energy.
-----
IEEE Blockchain Initiative
Blockchain is a new and emerging technology family positioned on the leading edge of the technology hype curve. It is not bleeding or cutting-edge technology; nor is it fully formed, standardized, or supported by best practices. The Blockchain Technical Community is highly fragmented and badly needs what the IEEE can deliver; a stabilizing think space of seasoned professionals specifically trained and positioned to make a difference. Blockchain is by far the most forward-thinking, impactful, and disruptive emerging technology family that the Future Directions Committee and the IEEE has sought to embrace.
The IEEE Future Directions Committee, represented by the societies of the IEEE, has approved the formation of the IEEE Blockchain Initiative (BLK) effective January 1, 2018. The BLK will be the hub for all IEEE Blockchain projects and activities. The BLK encompasses a comprehensive set of projects and activities supported by the following core subcommittees: Pre/Standards, Education, Conferences and Events, Community Development and Outreach, Publications, and Special Projects.
https://blockchain.ieee.org/about
University of Colorado Blockchain Alliance
The University of Colorado Blockchain Alliance (UCBA) is a member-driven, interdisciplinary center for the creative design and invention of blockchain solutions. Members are from academic institutions, research institutions, industry-leading companies, and government organizations that utilize blockchain and distributed ledger technologies. Alliance members share a common mission of driving the adoption of emerging blockchain technologies forward.
https://www.cublockchainalliance.com/
FAQs
What are my transportation/parking options for getting to and from the event?
There is paid parking available for this event. See the map link and map below for more information.
https://universityofcolorado.myuvn.com/parking/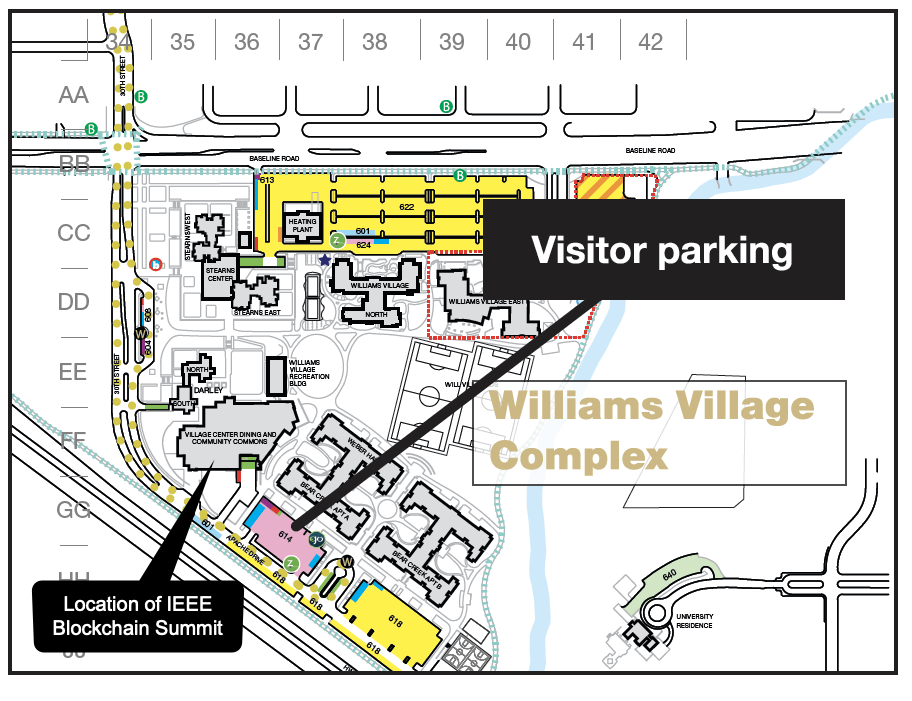 Date and time
Location
Williams Village Conference Center
University of Colorado Boulder
500 30th Street
Boulder, Coloardo 80303