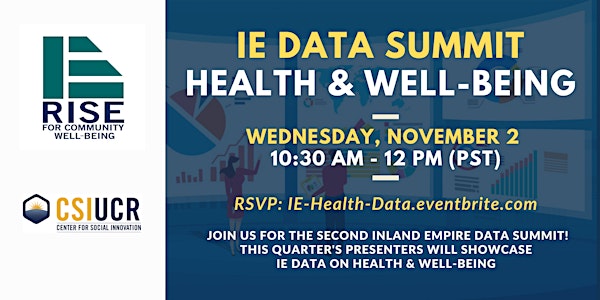 IE Data Summit: Health and Well-Being
We are excited to announce our continuing quarterly series of IE Data Summits with this quarter's topic focusing on Health and Well-Being!
By Center for Social Innovation, UC Riverside
Date and time
Wednesday, November 2, 2022 · 10:30am - 12pm PDT
About this event
Data is essential to the work we do. From better planning, to better service delivery, to achieving our collective goals for inclusion, sustainability, and equity–we need to build a strong data and research community that can:
Share insights and resources
Support each other in our work
Help produce better decision making on investments and policies
Join us to hear about recent and important research in health and well-being from our region and explore data tools that can be instrumental in strengthening our communities.
This continuing series of events will showcase research findings from across our region and provide a data tool demonstration for novice and expert data users to learn from.
Confirmed Speakers:
Andrea Polonijo, PhD, MPH, Assistant Professor of Sociology, UC Merced, Transgender and Gender Nonconforming Patient Experience in the Inland Empire, California
Jasmine Hutchinson, MSPH, Director of Community Benefit and Associate Director of Institute for Community Partnerships, Loma Linda University Health, 2022 Community Health Needs Assessment
Rev. Deborah Jones, Director, Mission Integration & Spiritual Care Services and Christopher Contreras, Director of Strategy & Business Development, Community Hospital of San Bernardino, Dignity Health, Community Hospital of San Bernardino, Community Health Needs Assessment 2022
Kevin Meconis, MPH, Senior Epidemiologist, Riverside University Health System-Public Health, SHAPE Riverside County
Adrienne Damicis, MS, Alliance Data Analyst, Public Health Alliance of Southern California, Healthy Places Index
About the organizer
The Center for Social Innovation—which is the result of two years of planning, community engagement, and foundation dialogue—aims to provide a credible research voice that spurs civic leadership and policy innovation. We also aim to integrate researchers, community organizations, and civic stakeholders in collaborative projects and long-term partnerships that boost collective impact. Importantly, the Center seeks to shift away from a "problem" narrative to an "opportunity" narrative for marginalized communities and localities.