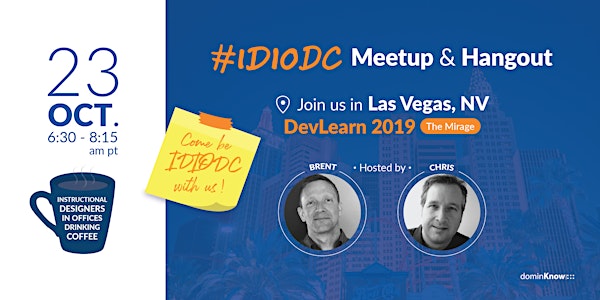 IDIODC Meetup & Hangout at DevLearn
Join our next IDIODC meetup with Brent Schlenker and Chris Van Wingerden at DevLearn 2019. Come be IDIODC with us!
When and where
Location
The Mirage 3400 South Las Vegas Boulevard Las Vegas, NV 89109
About this event
Welcome to the next Official Instructional Designers In Offices Drinking Coffee Meetup and Hangout located in Las Vegas, NV in alignment of this year's DevLearn Conference and Expo held by The eLearning Guild.
The event will take place in The Mirage on the first morning of the conference from 6:30 - 8:15 AM.
Meet and network with peers and of course our IDIODC hosts, Chris Van Wingerden and Brent Schlenker. The event will officially begin at 6:30 AM PT so folks can chat over a coffee before the live Wednesday episode at 7 AM PT (or 10 AM ET at our usual start time) from the meetup. During the live episode you'll have the opportunity to ask questions and participate in the conversation in person. The live episode will conclude after an estimated 30-45 minutes, allowing for the remainder of the meetup to continue the conversation with your peers (and of course, make it to the morning keynote at DevLearn).
The specific location of the meetup will be determined closer to the event.
Save the date, tell your friends, and remember to RSVP!