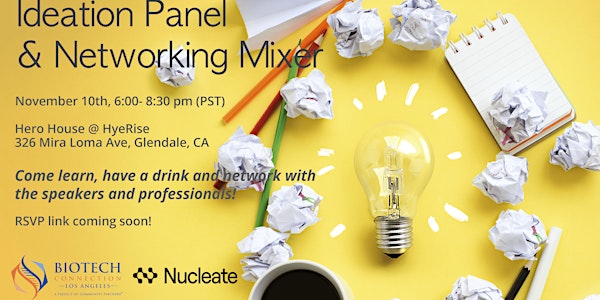 Ideation panel & Networking Mixer
BCLA, in collaboration with Nucleate and Hero House, would like to invite you to join us for our upcoming Ideation Panel!
When and where
Location
Hero House at HyeRise in Glendale, CA 326 Mira Loma Avenue Glendale, CA 91204
Refund Policy
Contact the organizer to request a refund.
Eventbrite's fee is nonrefundable.
About this event
BCLA, in collaboration with Nucleate and Hero House, would like to invite you to join us for our upcoming Ideation Panel which will be hosted at Hero House at HyeRise in Glendale, CA!
This panel will feature venture capitalists who will explore how new ideas are developed and expanded upon in the biotech and life sciences space. Attendees will have the chance to connect with founders, young professionals, and VC's during the panel discussion and the subsequent networking mixer!
Where: 326 Mira Loma Ave, Glendale, California, 91204
When: November 10th, 6:00PM - 8:30PM
Panelists:
Lily Yang
Associate Professor, UCLA
Department of Microbiology, Immunology and Molecular Genetics
Lucy Abgaryan
Co-founder and CEO at GrittGene Therapeutics
Llewellyn Cox
CEO of LabLaunch
Armine Galstyan
Principal at SmartGateVC
By RSVPing to this event, you agree to join BCLA's mailing list to receive monthly newsletters and information on other exciting events happening in the LA biotech landscape! Your information may be shared with the partners organizing this event.
Photographs and/or videos may be taken at this event. By attending the event, you acknowledge and agree that your likeness may be included in photos and videos of the event and used by BCLA in newsletters or in other BCLA communications. If you do not agree to this usage, please notify the photographer or videographer.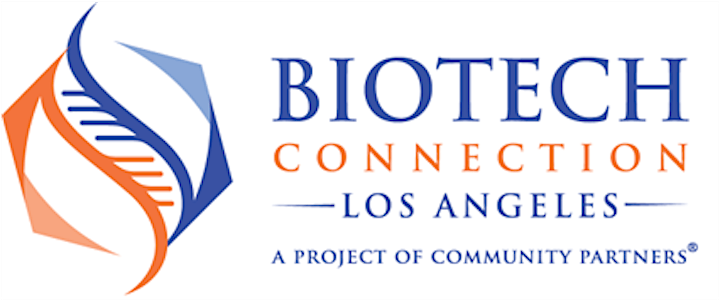 Biotech Connection Los Angeles (BCLA) is a project of the 501(c)(3) non-profit Community Partners. We are an organization run by academics and biotech professionals from all over Los Angeles and our mission is to inspire, educate and connect emerging scientists and entrepreneurs to grow and diversify biotech in LA. Los Angeles is home to renowned universities and research institutes producing top talents and exciting innovations. We are passionate about making our city a major biotech hub!
If you are interested in fostering early-stage entrepreneurship, retaining local talent, or just want to know more about what we do, subscribe to our newsletter, come to our events or donate to our cause. Let's build a vibrant LA biotech community together.

Established in 2000 as one of the Governor Gray Davis California Institutes for Science and Innovation, the California NanoSystems Institute (CNSI) is a hub of interdisciplinary research, translation, and education where scientists from diverse fields find common purpose in addressing grand challenges of the 21st century. With locations at the University of California's Los Angeles and Santa Barbara campuses, the CNSI leverages public and private investment to drive collaborative nanoscience research across disciplines, translates discoveries into knowledge-driven commercial enterprises, and educates the next generation of scientists and engineers.
https://cnsi.ucla.edu

Building upon the university's Michelson Center for Convergent Bioscience Initiative, the Bridge Institute unites eminent professors across the entire university, including the USC Dornsife College of Letters, Arts and Sciences, the USC Viterbi School of Engineering and the Keck School of Medicine of USC, as well as animators and cinematographers in the USC School of Cinematic Arts and the USC Institute for Creative Technologies, and technology transfer experts in the USC Stevens Center for Innovation. We are artists, engineers, scientists and physicians bridging the molecules of life to improve the human condition. Imagine a world where scientific data is released from the confines of its originating discipline, allowing us to better understand, integrate and advance knowledge. Our values are Teamwork, Imagination, Innovation, Learning, Teaching, and Convergence.
https://dornsife.usc.edu/bridge-institute

BioscienceLA's mission is to ensure that Los Angeles has a collaborative, well-coalesced ecosystem that encompasses all aspects of the Southern California life sciences cluster – biotechnology, pharmaceuticals, medical devices, medical diagnostics, bioinformatics, healthcare IT, medtech, digital health, and more.
BioscienceLA is not designed to duplicate existing activities or organizations but to help harmonize the efforts of all regional stakeholders -- academic institutions, research hospitals, investors, startups, mature companies, trade associations, public and quasi-public agencies, and others -- to advance Los Angeles' capacity and pace of innovation.
https://biosciencela.org/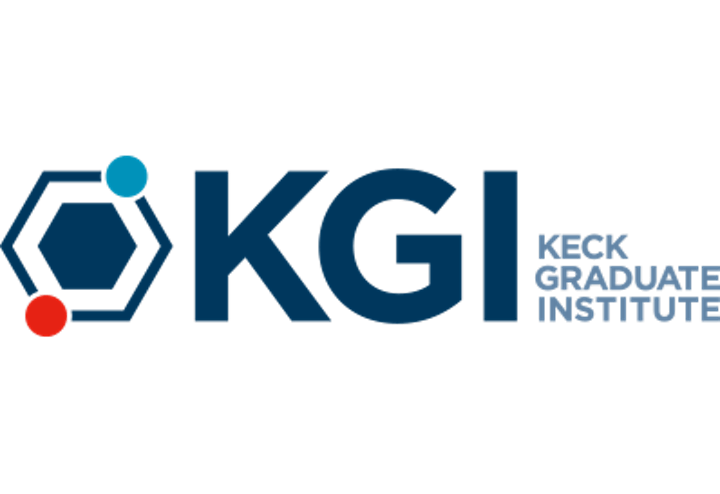 Founded in 1997, KGI is a proud member of The Claremont Colleges. With an entrepreneurial approach and industry connections, KGI provides pathways for students to become leaders in healthcare and the applied life sciences.
https://www.kgi.edu/