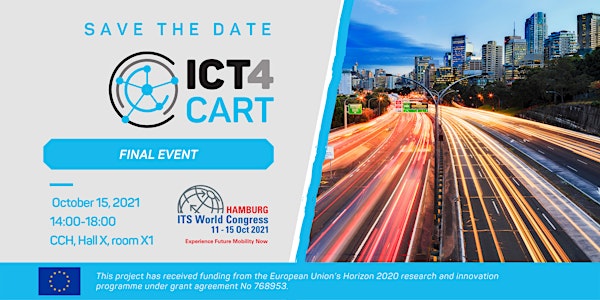 ICT4CART Final Event
ICT4CART Final Event
When and where
Location
Congress centrer Hamburg Messeplatz 1 Auditorium CCH, Hall X, room X1 20357 Hamburg Germany
About this event
Invitation - Save the Date!
ICT4CART consortium is glad to invite you to the ICT4CART Final Event that will be physically conducted in the context of the ITS World Congress 2021,on 15 October 2021, at 14:00 - 18:00, in Congress Center Hamburg, Auditorium CCH, Hall X, room X1, in Hamburg Germany.
The final event is organised to showcase the project results and outcomes after three years of research work.
The event will be video recorded and photo material will be also collected during the event. For those, who do not wish to appear on the audiovisual material, a sticker will be available in front of the room, to accompany their event badges.
Registration
ICT4CART Final Event participants must first be registered for the Congress (registration for the ITS World Congress) and secondly for the event here in Eventbrite (due to Covid19 restrictions, spots are limited, we encourage everyone to register in order to guarantee their spot).
Only registered participants of the ITS World Congress will be allowed in the venue of the event.
Before proceeding to the registration in the Eventbrite, make sure you had read the terms and conditions available here.
COVID-19 Info
Please be mindful that the ITS World Congress is a "2G event". Under the 2G format, all attendees will need either to be:
o Fully Vaccinated with one of the 4 EU recognized vaccinations (Moderna, Pfizer/BioNTech, Janssen/Johnson&Johnson and Oxford/AstraZeneca) or
o Recovered from COVID and have proof of full recovery from COVID 19 (presentation of a valid vaccination certificate and/or proof of COVID-19 recovery).
o But would NOT include: people who are only tested against COVID
More info can be found here.
Agenda
The event agenda is available here.
ICT4CART at a glance
ICT4CART is a three year European project, funded under the Horizon 2020 Work Programme. Started in September 2018, ICT4CART intended to address the ICT-related challenges of road automation and telecommunications that are linked with connectivity, data management, interoperability, cyber-security, privacy and ICT architecture. ICT4CART aimed at creating an ICT infrastructure to enable the transition towards road transport automation, adapting and improving technological advances from different industries, mainly telecom, automotive and IT. The project built on four specific high-value use cases, which have been demonstrated and validated under real-life conditions at the test sites in Austria, Germany, Italy and across the Italian-Austrian border. More details about the use cases can be found here.
Watch the ICT4CART final video to get a better understanding about the project advances!