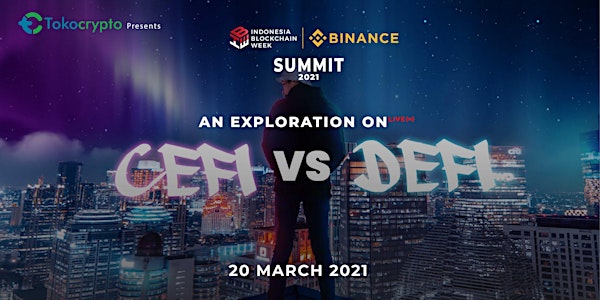 IBW X BSC SUMMIT 2021: An Exploration on CeFi vs. DeFi
A half-day of online Webinar focusing on the various applications of Binance Smart Chain (BSC) and CeFi vs. DeFi in Indonesia.
About this event
Due to the ease of usage and well-developed ecosystem of Binance Smart Chain (BSC), the adoption of BSC has grown rapidly around the world. Indonesia emerged as the top adopter in Southeast Asia and the 5th biggest in the world. Realizing the potential of Indonesia, Binance officially partnered with Tokocrypto to further assist and grow the adoption of the BSC ecosystem in the country, especially on the CeFi and DeFi scope.
In light of the above, BSC Summit 2021 will be held in collaboration with Indonesia Blockchain Week as a half-day webinar session. In this webinar, multiple sessions will be scheduled; sessions on BSC, community talks, panel discussions, and BSC technical forums. Several high-profile global and BSC, CeFi, and DeFi experts will be speaking in this Webinar to share their insights on how Indonesians can benefit from BSC, CeFi, and DeFi.
Event Rundown
10.30 - 10.35: Opening and Introduction by Tokocrypto
10.35 - 10.40: Welcome Speech by Tokocrypto
10.40 - 11.00: Keynote Speech by Pang Xue Kai, CEO of Tokocrypto
11.00 - 11.15: Keynote Speech by Changpeng Zhao, CEO of Binance
11.15 - 11.25: TKO NFT Design Award Ceremony
11.25 - 11.50: CeFi vs. DeFi Community Talk
11.50 - 11.55: Lucky Draw Announcement
11.55 - 12.10: Keynote Speech from Autofarm
12.10 - 12.25: Keynote Speech from Binance (TBC)
12.25 - 13.00: Panel Discussion 1 on Liquidity Pool with Autofarm and Binance (TBC)
13.00 - 13.45: Official Break and BSC Technical Session
13.45 - 14.00: Keynote Speech from ForTube
14.00 - 14.15: Keynote Speech from SafePal
14.15 - 14.30: Keynote Speech from CertiK
14.30 - 15.05: Panel Discussion 2 on BSC Ecosystem with ForTube, SafePal, and CertiK
15.05- 15.15: Lucky Draw Winner Announcement and Closing
*Event will be streamed on: