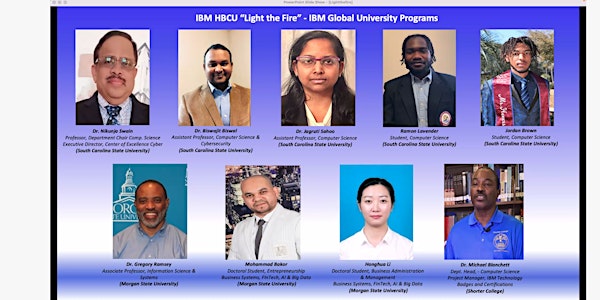 IBM HBCU Light the Fire (HBCUs Sharing Best Practices)
Sharing the exceptional uses of the assets IBM is making available by faculty and university leaders to highlight the standout HBCUs!
About this event
We invite you to the discussion to see what our HBCU's faculty and university leaders have done with the resources available at no charge. We will provide an update on new resources that are available. Faculty & University Leadership will share their projects as an example of how they leverage experiential learning to advance research, be more competitive or accelerate the project business value during this one hour session.
June and July 2022 sessions will be used as office hours to answer any question from HBCU Leaders and Faculty due to the summer schedules for many in higher education.
IBM Global University Specialty Programs Introductions
IBM Hightlights of a Frequently Used Element of the Program
Institutions Sharing Their Experiences and Best Practices
What this Means to Students-Told By Students
Connections Being Made
Discussion and Questions