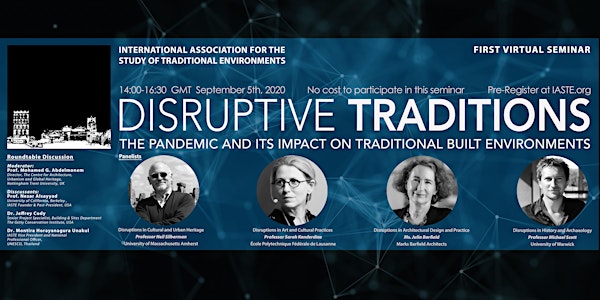 IASTE2020 VIRTUAL SEMINAR DISRUPTIVE TRADITIONS: THE COVID-19 PANDEMIC AND...
The 1st IASTE Virtual Seminar Saturday, September 5th, 2020 14:00-16:30 pm GMT
About this event
As an organization dedicated to increasing our understanding of place, tradition, and change, the International Association for the Study of Traditional Environments (IASTE) is pleased to host a live seminar with four seminal scholars and practitioners who will try to answer a series of questions in an attempt to further the discourse on the post-pandemic city. They bring a deep knowledge of ancient history, digital media, contemporary design, and cultural heritage and their voices will help us develop a deeper understanding of what this pandemic means to the future of our cities.
Our panelists will respond to the following questions, from their disciplinary and scholarly experiences:
What modes of disruptive traditions that are occurring during the pandemic might shape new urban patterns and how should we embrace this change?
How will traffic flows shift? Will the flow of people towards urban centers for work, shopping and entertainment be reversed towards more rural, isolated and protected communities?
How will practices such as architecture and design adjust to new norms of urban tradition? Will that influence our perception of density and decisions on where to live?
How will we engage with heritage, history, and culture in more mobile, spatially disconnected, and virtual environments?
How much will virtual environments (workspace, education, culture, and tourism) contribute to more intelligent cities? Greener cities?
This live symposium will be held Saturday, September 5th 2020 -1400-1630 GMT. The event is free and open to the public but participants must preregister. Please see www.iaste.org for updates.
PANELISTS
Neil Silberman, University of Massachusetts Amherst: On Disruptions in Cultural and Urban Heritage
Professor Sarah Kenderdine, École Polytechnique Fédérale de Lausanne: On Disruptions in Art and Cultural Practices
Julia Barfield, Marks Barfield Architects: On Disruptions in Architectural Design and Practice
Professor Michael Scott, University of Warwick: On Disruptions in History and Archaeology