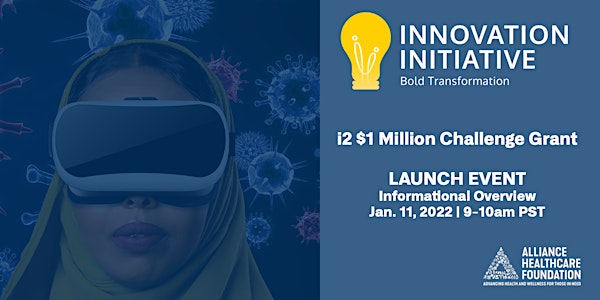 i2 Launch - Informational Overview
This is a YouTube Premiere with live chat for Q&A, aimed at describing the 2022 i2 $1 Million milestone-based Challenge Grant.
About this event
Link to the YouTube Premiere: https://youtu.be/B1M4a-RDsTg
The Innovation Initiative (i2) is a $1 Million milestone-based Challenge Grant which includes a 12-month mentorship journey, guided by our Innovation Partner, Nex Cubed, culminating in a final pitch session to a panel of judges.
Do you have a promising innovation?
Alliance Healthcare Foundation seeks market-based and/or transformational systems-change solutions with the potential to improve access, quality and health outcomes; increase capacity, and reduce costs for the most systemically marginalized and under-resourced populations in San Diego and/or Imperial counties.
One of the most efficient ways we can support population health and wellness improvement is by helping innovations succeed, scale, and achieve sustainability.
This online Launch Event, with live chat for questions and answers, will provide information about:
History and background of i2
Overview of the 2022 i2 Challenge Grant
Eligibility
Evaluation elements
Judges
Introduction of Innovation Partner Nex Cubed
Application process and timeline
Timeline for i2
Applications open: January 1, 2022, 8:00am PST
Applications close: January 28, 2022, 5:00pm PST
i2 Journey for selected applicants: February 1 - December 31, 2022
Decision announced: January 2023
More details about the 2022 i2 Challenge Grant can be found here.