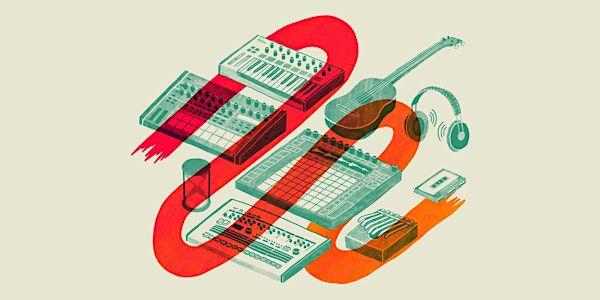 HYPERFLOW Music Production Workshop
HYPERFLOW: Part 1 is a guided Music Production challenge, where every attendee walks away with a new song.
By Johnathan Zhu (VYLINS)
When and where
Date and time
Saturday, January 28 · 10am - 2pm PST
Refund Policy
Contact the organizer to request a refund.
Eventbrite's fee is nonrefundable.
About this event
Music Producers | Beat Makers | DJ Songwriters
Do you make music, but feel like you never have enough time to finish your tracks?
Do you want to get faster at making new songs?
Are you ready to take your song-making skills to a new level?
Join us in the HYPERFLOW Online music workshop designed to help you create a whole track in 4 hours.
This is a limited-space event.
WHAT IS HYPERFLOW?
HYPERFLOW is a music-making workshop, where participants will be rapidly creating new songs in a limited time span. This workshop will help you practice making music faster, and turn off the part of your brain that constantly critiques your own music and stops you from making anything new. With an open creative space and structured urgency, your critical side doesn't have time to stop your work, and it leaves only your creative side to make lots of work! It encourages you to reach a state of musical "Flow". After refining the in-person workshop in San Francisco and Berlin and Los Angeles, Hyperflow now is open to everyone online.
HOW IT WORKS:
The goal of the day is for each participant to create 2 new tracks in the span of a 7 hour day, and to get to know your fellow participants and music makers. We will offer structure and strategies to help you make the songs (Beat Recipes), and you will walk away with new songs, new techniques, and new music producer connections.
We will be running structured follow-alongs to help you come up with ideas and help you get them off the ground, and we will encourage you to join. The first couple of hours will focus on rapid music idea generation, making full ideas (Melodies, bass, chords, drums) in very short sprints. As the day continues you will build off of these ideas to create better versions of these songs. The last part of the day will be focused on finishing your tracks. Every song must be exported by the end of the day. The day will finish with a 'track sharing session' where everyone gets to share the track they produced with the group.
What you will get out of this event
·Your goal will be to create a whole song in 4 hours (From scratch).
·We will learn a structured system to guide the process to get you making music Fast.
·You will have dedicated 4 hours to creating new music
·You will be in a collaborative online space with up to 21 other music producers
·You will share your tracks at the end of the day with the group with other like-minded individuals
Note: You must register for this event (there are limited seats). Also, you must have your webcam turned on during the interactive portions of the event. The whole point of Hyperflow is to build a creative community, so my personal choice as the event creator is that we all are able to see and interact with each other.
AGENDA:
10:00 am - Introductions and icebreaker
10:30 am - Beat Recipe
12:00 pm - Break/Lunch
12:30 pm - Finishing time
1:30 pm - Sharing
2:00 pm - End
REQUIREMENTS:
-At least a basic level of fluency in your preferred DAW (Ableton, FL Studio, etc.) This workshop is not for absolute beginners to music production. This workshop focuses on the songwriting process.
FAQ:
Is HYPERFLOW limited to only specific genres?
Not at all! We are absolutely musically inclusive and will help and support you regardless of whether you make Hip Hop, Psytrance, 90s commercial music, ethno-tribal-trance-with-a-hint-of-French-House, etc… Let's make some dope music together!
Can singer-songwriters join?
Yes! With attendees online, you can make whatever kind of music you want, including songwriting with lyrics.
I have another question that isn't listed here...
Please submit any other questions via email to Hyperflowla@gmail.com