Our biggest and most scenic free walk of the year Exchange Place in Jersey City to GWB to World Trade Center, 10-30mi
About this event
Our biggest and most scenic free walk of the year!
Start: Exchange Place, Jersey City
Finish: World Trade Center
Distance: 10-30mi
Return: PATH train
Coordinator:  Risa Olinsky
Transit: NJTransit to Newark with transfer to PATH train to Exchange Place
Optional endpoints: A smaller ten-mile loop using the New York Waterway Port Imperial/Weehawken ferry is an option.  The #1 subway shadows the entire second half of the route for those unable to finish. Light rail is available on the Jersey side.  
Walk 10 to 30 miles of Hudson River vistas! FREE walking event
Some details may be subject to change. Register to stay tuned to developments.
Get moving! Be a part of our most popular event of the year. Cross the grand George Washington Bridge on foot. Visit the location where Alexander Hamilton dueled with Aaron Burr. Enjoy a day of sweeping vistas along the river on a pedestrian-friendly route while we support the preservation of our natural resources.
Our 8th annual Hudson River Loop Walk is a one-day 30-mile walk along the Hudson bordering NYC and NJ. We start at the PATH station at Exchange Place in Jersey City and continue north along a nearly continuous Hudson River Waterfront Walkway on the Jersey side to the George Washington Bridge. After the spectacular trip across the bridge, we connect to the Hudson River Greenway trail, head south and end at the World Trade Center.
If you are not ready to tackle a 30-mile journey, take advantage of the NY Waterway ferry service. With departures every twenty minutes, NY Waterway provides a pleasant journey from Port Imperial/Weehawken to Pier 78 in Manhattan during the Hudson River Loop Walk for those walkers wishing to complete the shorter ten mile loop.
Thanks to the progress on the Hudson River Waterfront Walkway on the Jersey side and the well-established Hudson River Greenway on the New York side, we will enjoy a route friendly to pedestrians and cyclists, and complete a loop with virtually no interaction with traffic and just a few streets to cross.
There's an optional short detour up the bluffs to Weehawken to view the spot where Alexander Hamilton died in a duel with Aron Burr. The walk will also introduce to you the edgy architecture of Burdett's Landing, the roadside nests of Edgewater parrots, views from the George Washington Bridge, the Little Red Lighthouse, Manhattan's many riverside sculptures, the famous High Line elevated walkway, and many other curiosities.
Bring your friends and family to a memorable walk with many spectacular views. This is among the most highly rated walks in the region and always draws a big crowd.
Highlights:
- Hoboken- Hudson River Waterfront Walkway- Weehawken bluffs- Hamilton Park- Edgewater parrots- Burdett's Landing- George Washington Bridge- Fairway Market- Hudson River Greenway- Midtown- High Line- Vessel- World Trade Center- Occulus
Partners:The East Coast Greenway Alliance is a non-profit organization developing a public multi-use 3,000 mile trail from Canada to Key West through New Jersey and New York. Donations and memberships help make this dream trail a reality. 
The Hudson River Waterfront Walkway is a spectacular pathway on the western shore of the Hudson River in New Jersey. The Hudson River Waterfront Conservancy is dedicated to monitoring the completion and maintenance of the 18.5 linear mile plan while preserving the scenic value the Walkway. Your donations help make this spectacular walkway even better.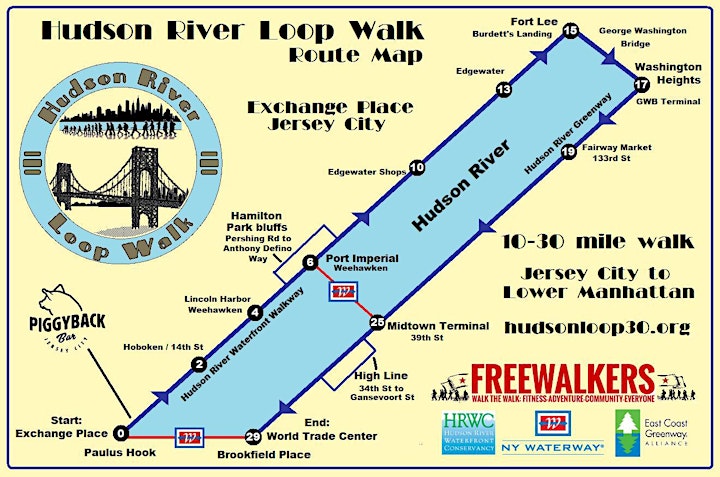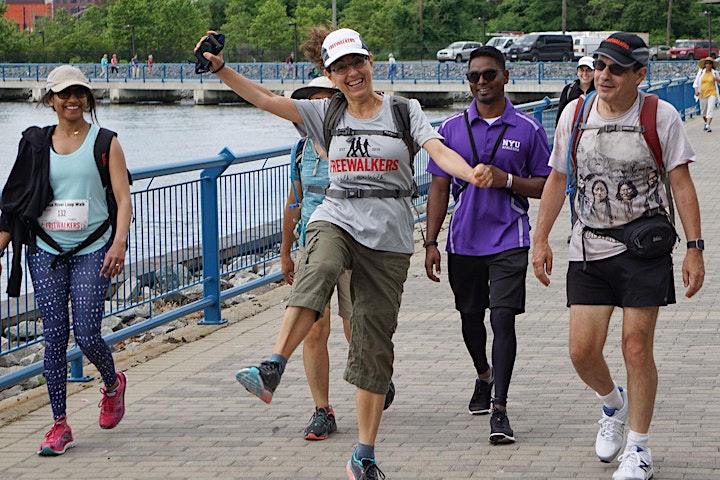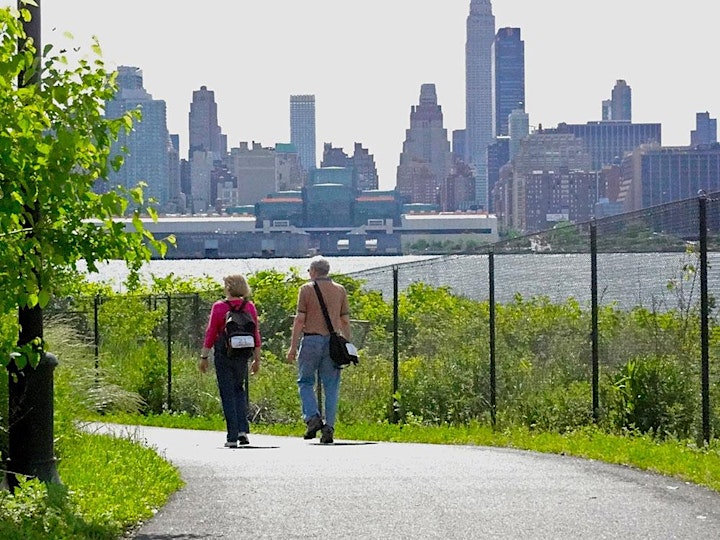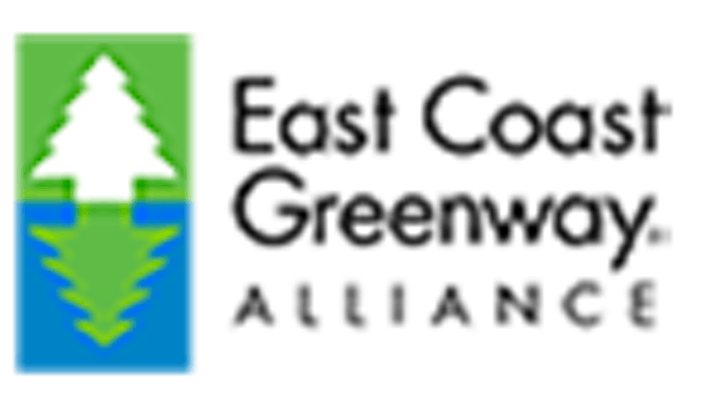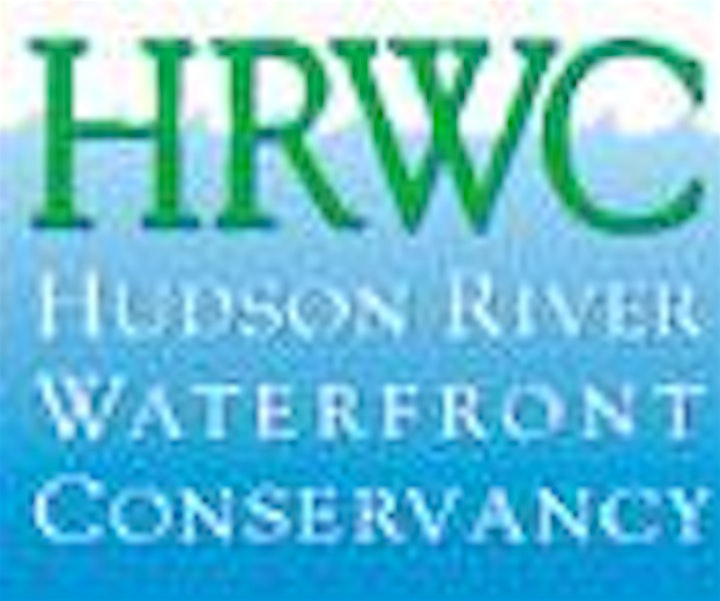 Organizer of Hudson River Loop Walk
FreeWalkers is a non-profit 501(c)3 social organization and network for individuals interested in participating in distance walking events. Our group is free and open to everyone. We encourage each member to accomplish challenging goals as we work together, experience, and promote pro-pedestrian issues. Paricipants accept responsibity for themselves on the walk.