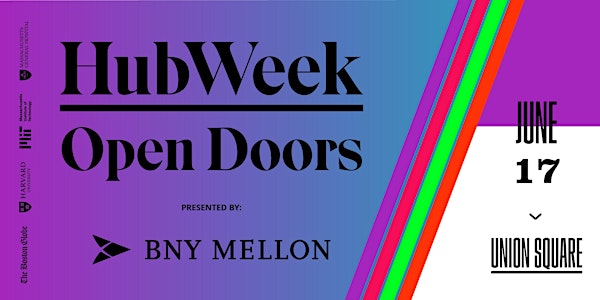 HubWeek Open Doors: Union Square
When and where
Location
Bow Market 1 Bow Market Way Somerville, MA, MA 02143
Description
Open Doors is a chance for your to connect with the innovation happening in different corners of this city – places where new ideas are percolating, businesses are emerging, and communities are growing.
Union Square, Somerville has long been known as a buzzing hotspot for creative experimentation, robotics, and amazing food. Recently, this bustling neighborhood has been leading the charge to redefine entrepreneurship, too.

Join us at Bow Market for an afternoon designed to unleash the entrepreneurial spirit in all of us and give you creative and effective tools to tell your story. No matter where you are on your path — new graduate, first-time founder, or a seasoned business owner — this curated collection of talks and activities will help you build momentum for your journey:
Make connections over complementary brews from Remnant Brewing and food from Bow Market's Nibble

Learn how to perfect your pitch and refine your story with a public speaking workshop

Polish your website and social channels with a new headshot

Get personalized advice from seasoned entrepreneurs at one-on-one speed mentoring sessions

Get the scoop on starting and running your own business from a wide range of new and long-time entrepreneurs
The schedule at a glance: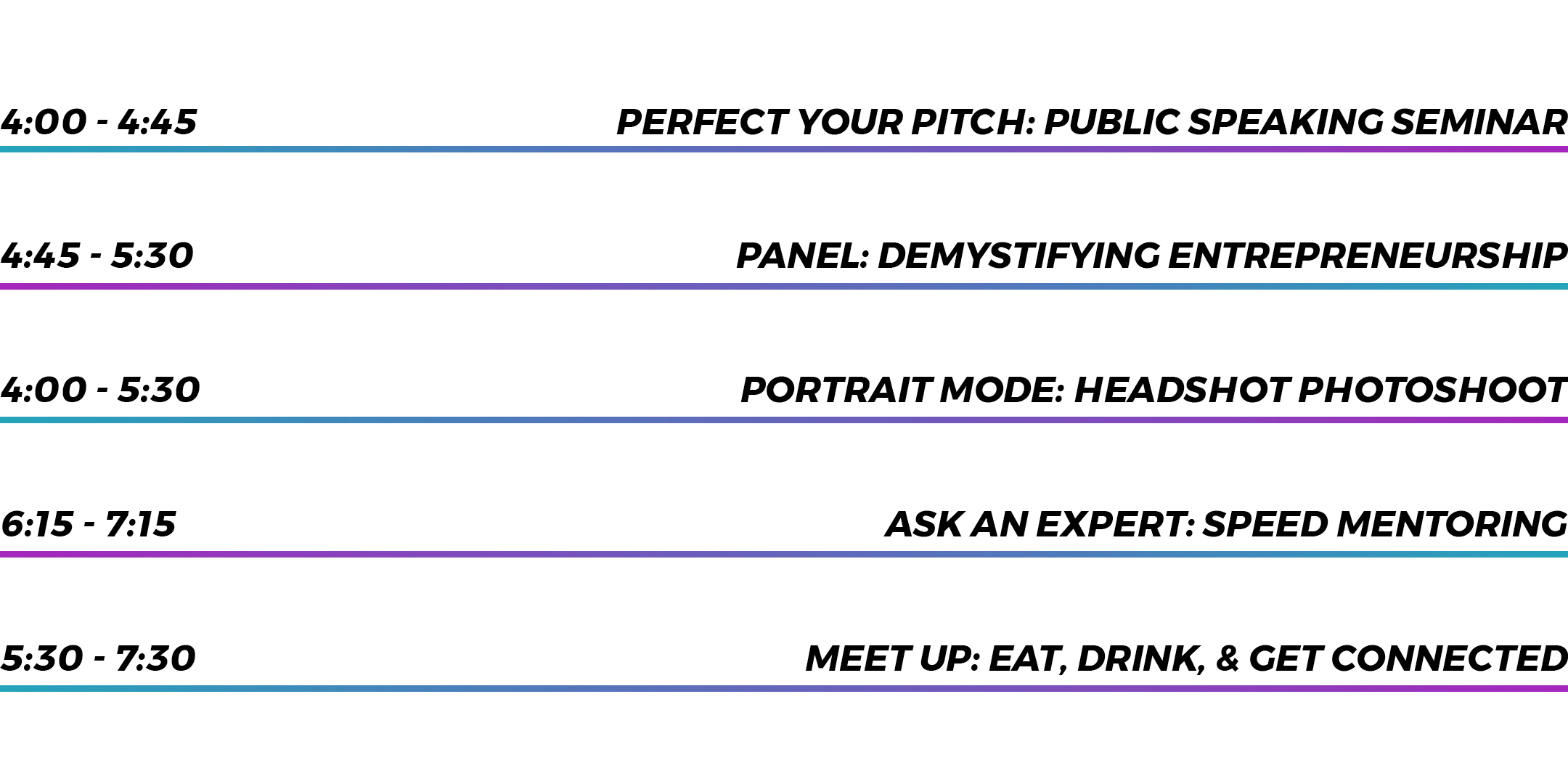 The session details:
Eat, Drink, & Get Connected
5:30 - 7:30 PM | Meet-up | Remnant Brewing
Connect with and celebrate the HubWeek community with a meet-up at Remnant Brewing. Grab a complementary beer from Remnant Brewing, snack on complementary samples from Bow Market's Nibble, and meet likeminded people building great things in our community.


Perfect Your Pitch: Public Speaking Seminar
4:00 - 4:45 PM | Workshop | The Comedy Studio
Learn what it takes to speak in front of — and connect with — a crowd, plus creative ways to give your pitch, tell your story, and deliver presentations for maximum impact. Liquid courage provided.

Rick Jenkins, owner, The Comedy Studio


Portrait Mode: Headshot Photoshoot
4:00 - 5:30 PM | Photoshoot | Canopy Room
A polished, up-to-date headshot is a key part of telling your story, especially online – and we're here to help. Book a five-minute photo session with personal branding photographer Jenn Márquez and receive a free digital image to use on your website, social media channels, or resume. Space is limited. We'll reach out to registrants beginning June 10 to schedule individual time slots.


Non-Traditional Paths to Entrepreneurship
4:45 - 5:30 PM | Panel | The Comedy Studio
Entrepreneurship can be overwhelming – each step comes with a unique set of questions, hurdles, and milestones. Thankfully, the path has been paved by an amazing community of people willing to share their stories. Hear from a panel of serial entrepreneurs, rookies, and business veterans on how to tackle the one-of-a-kind challenges that come with forging your own path in business.


Ask an Expert: Speed Mentoring
6:15 - 7:15 PM | Interactive | Bow Market Courtyard
You've got questions. Our mentors have answers. In this lightning round of "speed mentoring," you'll get eight minutes to ask entrepreneurship experts your burning questions — from how to start a business, to scaling your brick and mortar, to the best coffee spots for all-nighters. Space is limited. We'll reach out to registrants beginning June 10 to schedule individual slots.

Matt Boyes-Watson, Co-owner, Bow Market

Val Bee, Founder, LIR Productions

Amy Spurling, Co-founder and CEO, Compt.io

Rebecca Pierce, Owner, 4GoodVibes, Somerville

Robert Nagle, Chief Product Officer & CTO, Interactions LLC

Dana Córdova, Vice President of Demand Generation, Globalization Partners

Brendan Ryan, Executive Director, HubWeek

Courtney Doyle, Partner, Director of Growth, Connelly Partners

Sybrand J. Röell, Managing Partner, Norvell Jefferson

Dann Vidaña, Director, District Hall Boston