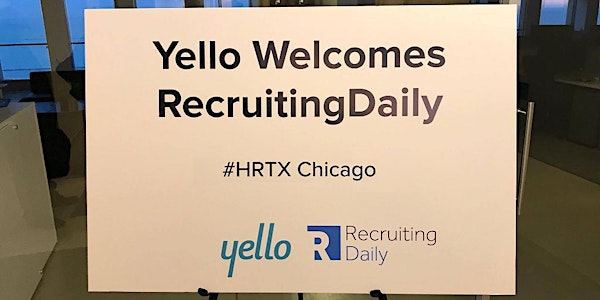 #HRTX Chicago 2018
When and where
Location
Yello Headquarters 55 E Monroe St #3600 Chicago, IL 60603
Description
RecruitingDaily Presents: #HRTX 2018
In the world of talent acquisition, we understand better than most that time is a precious commodity. So, we invite you to join us for a morning full of learning that we know will be of immense value. We'll have you back in your office that afternoon, so you can finish up your day with actionable experience. In other words, it's worth it to attend and you can tell your boss we said so.
---
What to Expect:
Upon arrival we'll be splitting the participants into four separate groups. We'll start with a light breakfast and a truckload of coffee. The group as a whole will then be introduced to our tech experts (SMEs) - which will each give a brief elevator speech about their tech and what's going on in the marketplace today. Then, each group will rotate through 30 minute sessions facilitated by industry experts.
Expert topics will include:
> College Recruiting
> Global Sourcing
> Recruitment Automation & Funnel Marketing
The Subject Matter Experts (SMEs) will be facilitating critical recruiting tech conversations and we'll round out the day with some lunch and networking.
---
Featured Experts:

College Recruiting
James Ellis, Global Head of Employment Brand, Groupon

Global Sourcing
Angie Verros, Founder & CEO, Vaia Talent

Vendor Selection
William Tincup, President, RecruitingDaily


---
Event MC

Brian Fink, Talent Acquisition Partner, RentPath
With 10+ years of successfully guiding innovators across North America, Brian Fink's focuses on building recruiting functions, candidate engagement, organizational transformation, recruiter training, and executive search. Whether helping startups take-off or working with disruptive companies to navigate growth, Brian enjoys relationships with visionaries who meet challenges head-on and driving talent towards opportunity.
---
Who should attend:
We love all types of Recruiters, TA Leaders, Staffing Managers, Corporate and Staffing Agencies. You get the point. If you are in the business, can add value and are willing to participate in conversation - we want to have you in the room.
We love companies of all sizes - we call that diversity in innovation. Big and small companies alike have things to share as well as learn.
Selling this internally:
>> Networking with your local peers
>> Actionable insights from the the facilitated conversations
>> Discussions with recruiting tech leaders
See you there!
---
Btw, the venue is AWESOME: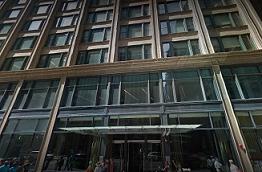 Yello Headquarters, 55 E. Monroe St., Suite 3600, Chicago, IL 60603
Enter the building at 55 E Monroe Street, 125 S Wabash Street or 50 E Adams Street. There's no need to check-in at the security desk, just need to proceed to the elevators that include service to the 36th floor. The office entrance is immediately visible when exiting the elevator.
---
Parking options:
http://www.55emonroegarage.com/rates/
https://www.lazparking.com/local/chicago-il/33-west-monroe
http://citadelcenter.info/main.cfm?sid=bamenities&pid=pgarage
http://www.palmerhousehiltonhotel.com/about-our-hotel/parking/