HRIC Tech Tuesday - OpenSeas Technology Innovation Hub
HRIC Tech Tuesdays is a recurring series of lunch hour technical content webinars intended to be monthly on a Tuesday (schedules may vary).
About this event
Tech Tuesdays are a series of 1-hour max Zoom sessions live, with chat Q&A. To see the month-by-month lineup, visit: http://bit.ly/HRICtechtuesdays. The next event coming up will be:
Session 6: OpenSeas Technology Innovation Hub
April 13, 2021, 12-1pm EST
Led by Jerry Cronin - Executive Director of OpenSeas Technology Innovation Hub
The oceans were the first and are still the largest global pathway connecting people and nations across the world. Blue water activities, port operations, supply chains, manufacturing/repair facilities, and other maritime-focused endeavors create a net of commerce, security, and recreation that spans the planet.
Located in Hampton Roads Virginia, OpenSeas is a globally engaged and recognized innovation hub focused on maritime and coastal issues whose mission is to work with entrepreneurs, industries, organizations, and communities to; identify "wicked" and "intractable" problems; discover and de-risk innovative solutions; and develop and deploy high-growth, scalable businesses into the global marketplace.
OpenSeas operates across four domains: Maritime, Offshore Wind, Aquaculture & Fisheries, and Coastal Resilience.
Zoom log-in details will be emailed out to registrants in advance of the session.
To learn more about HRIC and its programs, visit our website at: http://hrinnovationcollaborative.com/ and benefits of membership at: https://technologyhamptonroads.com/why-join/.
Please share with your network to help spread the word.
We hope that you can join us to learn more about this very important industry direction.
Thanks!
Hampton Roads Innovation Collaborative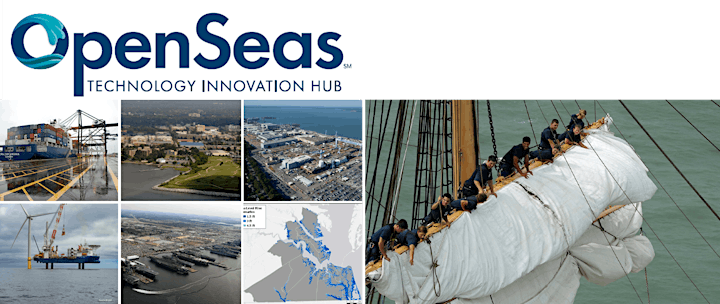 Organizer of HRIC Tech Tuesday - OpenSeas Technology Innovation Hub
The Hampton Roads Innovation Collaborative (HRIC), was originally known as the Hampton Roads Technology Council (HRTC), one of ten technology councils in the commonwealth of Virginia.
HRTC was formed in the late 1990s as a 501(c)6 non-profit solely focused on advancing the technology businesses in the Hampton Roads region.
In its early days, HRTC was focused on start-up incubators, an important component of business ecosystems, but eventually realized that incubators were inadequate as a sole driver of the regional tech sector.
In 2016, HRTC rebranded to HRIC and is approaching its new mission of creating programs, events, and visibility for area technology companies.
These activities are intended to assist development and growth of the technology sector and contribute to a diversified regional economy.