HR Innovation and Future of Work Global Online Conference and Workshop
About this event
March 3 - 6, 2020 | 8 a.m. to 5 p.m. Eastern Time Zone
Visit our official website to find more about the agenda, speakers, sponsorship opportunities and more.
This online conference will feature keynote sessions, panels, fireside chats and a one-day workshop.
This program is valid for 30 PDCs for the SHRM-CP® or SHRM-SCP® and 23.5 HRCI credits .
MORE INFORMATION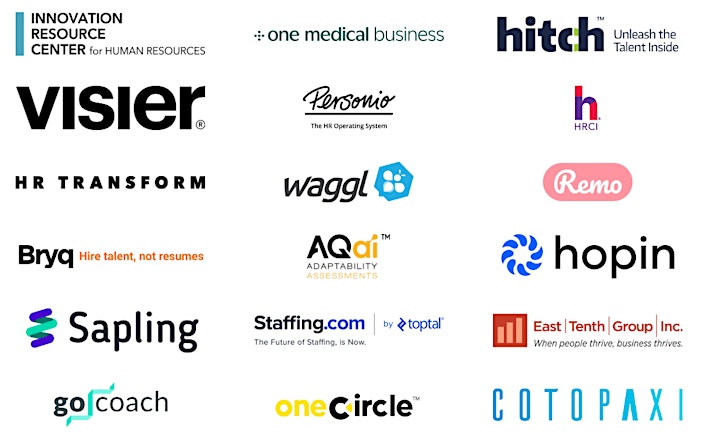 SPONSORS WANTED
Are you interested in sponsoring the HR Innovation and Future of Work Global Online Conference? Get in touch with us and find out about our competitive sponsorship plans for this online conference.
Workshop Faculty
We will have five workshops on March 6.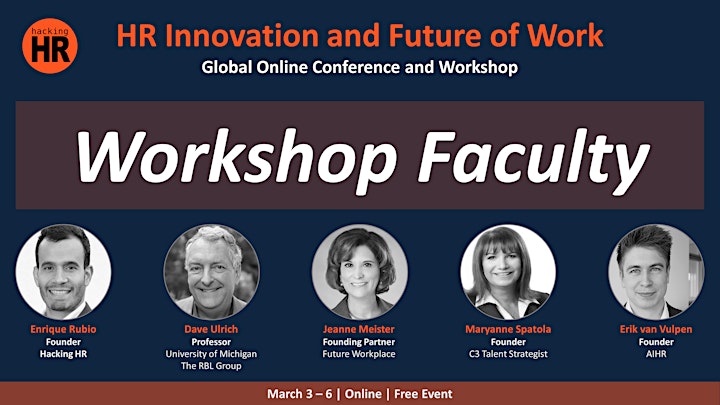 EVENT GUIDE
Sessions, date, times and links to connect:
March 3
1.00 a.m. to 2.00 a.m. EST: (Global Panel) The Experience of Work in the Middle East (How to Connect: On LinkedIn Live)
4.00 a.m. to 5.00 a.m. EST: (Global Panel) The Experience of Work in Africa (How to Connect: On LinkedIn Live)
6.15 a.m. to 7.15 a.m. EST: (Global Panel) The Experience of Work in Europe (How to Connect: On LinkedIn Live)
9.30 a.m. to 10.00 a.m. EST: Welcoming Remarks (How to Connect: On LinkedIn Live)
10.15 a.m. to 11.15 a.m. EST: (Breakout Session) Building a People-Centric HR
10.15 a.m. to 11.15 a.m. EST: (Breakout Session) Culture: The Key Ingredient of a Strong Organization
10.15 a.m. to 11.15 a.m. EST: (Breakout Session) Diversity, Inclusion, Equity and Belonging in The New World of Work
10.15 a.m. to 11.15 a.m. EST: (Breakout Session) The New World of Talent Management
10.15 a.m. to 11.15 a.m. EST: (Breakout Session) The Future of Wellness and Wellbeing at Work
10.15 a.m. to 11.15 a.m. EST: (Breakout Session) Humans First: The Quest to Build a More Human Workplace
11.30 a.m. to 12.30 p.m. EST: (Global Panel) Employee Experience: The REAL Competitive Advantage (How to Connect: On LinkedIn Live)
1.00 p.m. to 1.25 p.m. EST: (Keynote) Leading Organizations in the New World of Work (How to Connect: On LinkedIn Live)
1.40 p.m. to 2.40 p.m. EST: (Global Panel) Leading People and Organizations in Times of Accelerated Transformations (How to Connect: On LinkedIn Live)
3.00 p.m. to 4.00 p.m. EST: (Breakout Session) Building An Agile and Innovative HR Function (for Startups!)
3.00 p.m. to 4.00 p.m. EST: (Breakout Session) Making Sense of the Chaos: HR Change Management in The Age of Accelerations
3.00 p.m. to 4.00 p.m. EST: (Breakout Session) Creating the Business Case for HR Transformation
3.00 p.m. to 4.00 p.m. EST: HR & Marketing: (Breakout Session) Together for The Future
3.00 p.m. to 4.00 p.m. EST: (Breakout Session) Using Coaching to Transform Your Organization
4.15 p.m. to 4.45 p.m.: EST: Online Networking Session 1
5.00 p.m. to 6.00 p.m. EST: (Global Panel) The Diverse, Inclusive and Equitable Organization (How to Connect: On LinkedIn Live)
6.30 p.m. to 7.30 p.m. EST: (Global Panel) The Experience of Work in Latin America (How to Connect: On LinkedIn Live)
8.00 p.m. to 9.00 p.m. EST: (Global Panel) The Experience of Work in Asia (How to Connect: On LinkedIn Live)
March 4
1.00 a.m. to 2.00 a.m. EST: (Global Panel) The State of The Future of Work in the Middle East (How to Connect: On LinkedIn Live)
4.00 a.m. to 5.00 a.m. EST: (Global Panel) The State of The Future of Work in Africa (How to Connect: On LinkedIn Live)
6.15 a.m. to 7.15 a.m. EST: (Global Panel) The State of The Future of Work in Europe (How to Connect: On LinkedIn Live)
8.15 a.m. to 8.40 a.m. EST: (Keynote) What is The Future of Work (How to Connect: On LinkedIn Live)
9.00 a.m. to 10.00 a.m. EST: (Global Panel) The Future of Work from the C-Suite (How to Connect: On LinkedIn Live)
10.15 a.m. to 11.15 a.m. EST: (Breakout Session) The Gig-Workforce Generation
10.15 a.m. to 11.15 a.m. EST: (Breakout Session) Digital Transformation: The Reason Why Organizations Live or Die
10.15 a.m. to 11.15 a.m. EST: (Breakout Session) The Future of Work For International Organizations
10.15 a.m. to 11.15 a.m. EST: (Breakout Session) The Workforce of Tomorrow
10.15 a.m. to 11.15 a.m. EST: (Breakout Session) The Impact of Artificial Intelligence at Work
10.15 a.m. to 11.15 a.m. EST: (Breakout Session) The State of Future of Work in North America
11.30 a.m. to 12.30 p.m. EST: (Global Panel) What is "The Future of Work", anyway? (How to Connect: On LinkedIn Live)
1.00 p.m. to 1.25 p.m. EST: (Keynote) Innovation at Work (How to Connect: On LinkedIn Live)
1.40 p.m. to 2.40 p.m. EST: (Global Panel) Technology, People and HR (How to Connect: On LinkedIn Live)
3.00 p.m. to 4.00 p.m. EST: (Breakout Session) How to Buy HR Technology
3.00 p.m. to 4.00 p.m. EST: (Breakout Session) The Agile Workplace
3.00 p.m. to 4.00 p.m. EST: (Breakout Session) Data-Informed HR: Building and Optimizing People Analytics
3.00 p.m. to 4.00 p.m. EST: (Breakout Session) HR: A Digital Transformation Business Partner
3.00 p.m. to 4.00 p.m. EST: (Breakout Session) Women in Tech
3.00 p.m. to 4.00 p.m. EST: (Breakout Session) HR Digital Transformation
3.00 p.m. to 4.00 p.m. EST: (Breakout Session) Understanding Organization Network Analysis and the Implications for Work
4.15 p.m. to 4.45 p.m.: EST: Online Networking Session 1
6.30 p.m. to 7.30 p.m. EST: (Global Panel) The State of Future of Work in Latin America (How to Connect: On LinkedIn Live)
8.00 p.m. to 9.00 p.m. EST: (Global Panel) The State of The Future of Work in Asia (How to Connect: On LinkedIn Live)
March 5
9.30 a.m. to 10.00 a.m. EST: (Global Panel) Purpose and Profit: Is It Possible? (How to Connect: On LinkedIn Live)
10.15 a.m. to 11.15 a.m. EST: (Breakout Session) Strategic Workforce Planning
10.15 a.m. to 11.15 a.m. EST: (Breakout Session) Building The HR Capabilities to Thrive in the New World of Work
10.15 a.m. to 11.15 a.m. EST: (Breakout Session) The Learning Organization
10.15 a.m. to 11.15 a.m. EST: (Breakout Session) Building a Heart and Empathy Based Culture
1.00 p.m. to 1.25 p.m. EST: (Keynote) Social Impact (How to Connect: On LinkedIn Live)
1.40 p.m. to 2.40 p.m. EST: (Global Panel) Imagining the Future of Work and HR (How to Connect: On LinkedIn Live)
3.00 p.m. to 4.00 p.m. EST: (Breakout Session) Thinking and Doing Innovation
3.00 p.m. to 4.00 p.m. EST: (Breakout Session) Reskilling and Upskilling The Global Workforce
3.00 p.m. to 4.00 p.m. EST: (Breakout Session) Reinventing Jobs and Work
3.00 p.m. to 4.00 p.m. EST: (Breakout Session) The Future of Recruitment
3.00 p.m. to 4.00 p.m. EST: (Breakout Session) Branding Yourself - How to Put Your Introvert, Extrovert or Ambivert Self Out There
3.00 p.m. to 4.00 p.m. EST: (Breakout Session) Learning in the Age of Accelerations
4.15 p.m. to 4.45 p.m.: EST: Online Networking Session 1
March 6
7.30 a.m. to 8.30 a.m. EST: (Workshop Session) The Human-Centered HR (How to Connect: On LinkedIn Live)
9.00 a.m. to 10.00 a.m. EST: (Workshop Session) The Future of HR (How to Connect: On LinkedIn Live)
10.30 a.m. to 11.00 a.m. EST: (Workshop Session) Leadership (How to Connect: On LinkedIn Live)
1.00 p.m. to 1.40 p.m. EST: (Workshop Session) Adding Value Through People Analytics (How to Connect: On LinkedIn Live)