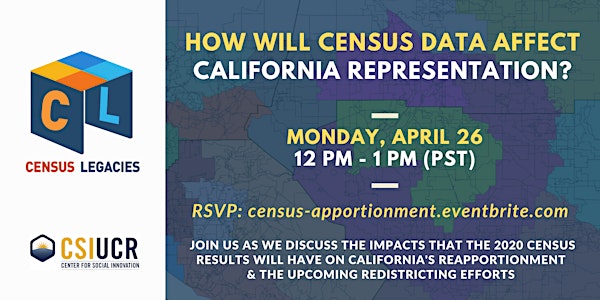 How Will the Next Census Data Release Affect California Representation?
Join us as we discuss the impacts of the 2020 Census apportionment data on the state of California and its local redistricting efforts
About this event
Join us on April 26th as we discuss the upcoming release of Census 2020 data, the quality of the data, and likely impacts on our Congressional representation and the need of redistricting. We will also discuss how the state, local governments, philanthropy, and various community partners can get better prepared for the 2030 Census, with meaningful steps to take each year.
Speakers include Assemblymember Marc Berman, Chair of the California Assembly Select Committee on the Census, Hans Johnson from the Public Policy Insitute of California (PPIC), Tara Westman from the California Endowment, and John Dobard from the Advancement Project.
Zoom link & agenda to be shared a few days prior to the event