Description
And now for something completely different…
the 19th annual How Weird Street Faire!

This is your invitation to the Dance. The weirdest dance in the world. Join us as we take a time warp back to the 1970s, a time of high weirdness and shiny things.


How Weird 2018
The Disco Ball Inferno

Sunday May 6, 2018
Noon to 8pm
Howard & 2nd Streets, Downtown San Francisco, Earth
For more info visit http://HowWeird.org

Come celebrate peace, creativity, and the start to the 2018 festival season!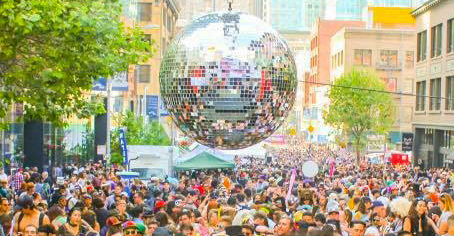 With 10 stages of cutting-edge electronic dance music!
Inspiring live and exhibited artwork on Art Alley!
Local arts and craft vending and yummy food!
Vendors from around the world with unique goods!
An educational celebration of cannabis culture on Green Alley!
And thousands of people in colorful costumes dancing in the streets!

In the not too far away future, we shall harken back to a simpler time, a funkier time, a more colorful time. It was a time of bellbottoms and big collars. A time of big cars and bigger hair. A time when lava lamps lit the land, and rocks were pets. Remember when fun was really fun?

The Disco Ball Inferno - a powerful theme based on a true story. The greatest story ever danced!

DANCE MUSIC STAGES
PRODUCED BY...
Symbiosis
CCC (Consortium of Collective Consciousness)
Muti Music
Enchanted Forest
Northern Nights
Opel
Opulent Temple
Tantra and Fusion
Mountain Lion Hi-Fi
SomaFM
Think You Can DJ Game Show


ART ALLEY

Art Alley will shine once again with the abundance of creativity that the San Francisco Bay Area is famous for. There will be live and exhibited artwork in a rustic urban setting. Be inspired by the wonders. There will also be local arts and crafts vendors, and ambient music from local legends SomaFM.


HOW WEIRD MARKETPLACE

There will be unique and exciting vendors from around the world selling designer goods, clothing, jewelry, art, food, and drinks. Come find new things for the 2018 festival season. From the weird to the wonderful, you can find it all. Plus each vendor and bar will be offering specials that come with Magic Pass!


GREEN ALLEY

Green Alley will be filled with cannabis-related booths, educational talks, seminars, and groovy downtempo music. Come learn and be delighted by the evolution of cannabis culture. There will be no sales of cannabis at the faire.


ENTRANCES

Less waiting, more fun! We will be introducing many changes to reduce the wait time at arrival, and will be adding a 4th entrance this year.

The entrances will be at…
Howard & New Montgomery Streets
Howard & First Streets
Second & Folsom Streets
Second & Mission Streets

We strongly recommend taking public transportation to the faire. We are very close to MUNI, BART, regional bus, and Caltrain stops. The faire is a short walk from Montgomery and Market Streets. It can be hard to find parking near the faire, many new building have gone up recently.


MAGIC PASSES

The entrance pass will cost $20 at the door.

This year the Magic Pass is required for entry to the faire. In the past, the entrance has been a sliding scale donation. We are working with the city to increase security and help control the crowds, while making the faire experience better for everyone. The neighborhood has changed a lot since we moved there, and we are grateful to be there.

The passes will still be Magical. There will be specials at all the faire vendors and bars, including discounts and fun activities and free things.

We recommend getting the presale Magic Passes to save money and time when you arrive, and to show your early support.

The cost of presale passes are $15, or early bird presales for only $11.11.
All presales start on Feb. 6th. The early bird presales end at 8pm on Feb. 11th.
All presales end at 6pm on May 5th.


The How Weird Street Faire is a project of the nonprofit World Peace Through Technology Organization, showing the world that peace is possible. The faire brings diverse people together to make connections and find common ground. Dancing knows no boundaries or political affiliation, and music, more than any other form of communication, is able to transcend differences between people. Come see how fun peace can be! And keep on dancing!


The Fantastic Towering Disco Ball and the Far Out Funky Inferno.
Can You Dig It? It's Out of Sight!

What the critics are saying…
"Shocking and thought provoking, with a funky beat."
"A heartwarming and loud action-filled romp by the Bay."
"Compelling. Riveting. Unforgetable."
"One word: It's time to boogie!"
"Nanu nanu indeed!"


This faire is dedicated to all the generations of people that have danced, and taken their dance to the weird level.

Coming to a street faire near you!*


THE PRESALES END ON SATURDAY MAY 5TH
AFTER THAT THE MAGIC PASSES ARE ONLY AVAILABLE AT THE FAIRE ON SUNDAY



~~~~~~~~~~

F.A.Q.


Should I wear a costume?

Absolutely! Pick a weird one. Styles from the 1970s are big this year.

Entrances?

There are 4 entrances to the faire:
Howard & New Montgomery Streets
Howard & 1st Streets
Folsom & 2nd Streets
Mission & 2nd Streets
Each faire entrance will have a shortened line for presale Magic Passes.

Directions?

The How Weird Street Faire takes place in the heart of San Francisco's SoMa district. It is centered at Howard & 2nd Streets, a few blocks south of Market Street, and a block east of Yerba Buena Gardens. The coordinates are 37°47'12.4″ N, 122°23'53.7″ W

The faire is near the Montgomery BART station, Transbay Terminal, Caltrain Station, and MUNI. We recommend taking public transportation to the faire. There is also a taxi waiting area at 1st Street and Howard. We recommend arriving early, the faire starts at Noon.

Is there parking?

Parking is very hard to find. We strongly recommend taking public transportation to the faire. We are close to many options.

Bike parking?

There will be self-service bike parking on Natoma Street, with an entrance on New Montgomery Street. Park your bike before entering the faire. Please lock your bike over the top of the barricades, not on the side. There will be security watching the bikes.

UFO parking?

The designated Flyer Saucer landing zone is at 37°47'16.62″N, 122°23'53.92″W

Handicapped accessible?

Yes, the faire is handicapped accessible. It is at street level.

Is it all ages?

Yes, the faire welcomes people of all ages, and all ages attend. Children 12 and under can come into the faire without a Magic Pass. But because of the loud noise and dense crowds, we do not encourage bringing young children to the faire. Earphones are strongly recommended for children.

Can I bring a backpack?

Yes, but all bags will be searched. Glass and weapons are not allowed.

Can I bring my dog?

Dogs are not allowed. Please don't bring them, it's too crowded and loud.

Can I DJ at the faire?

How Weird does not book any of the DJs. Each stage decides their own line-ups. You would need to contact the stages if you want to play at the faire.

Are there ins and outs?

Yes, and if you have a Magic Pass it will make it easier to come back in the faire.

What time should I arrive?

Arrive at Noon. The faire starts at noon, and you don't want to miss any of the fun. The music will also start at noon. And the vendors will be open at noon. Even Art Alley will be shining at noon.

Lost and found?

Lost and Found is located in the Info Booth, where you will also find answers to all of your faire questions.

Weather?

The How Weird Street Faire is a rain or shine event. We hope for shine.

Are there more answers and questions?

Sure, there is more on the How Weird website…
http://howweird.org/f-a-q/