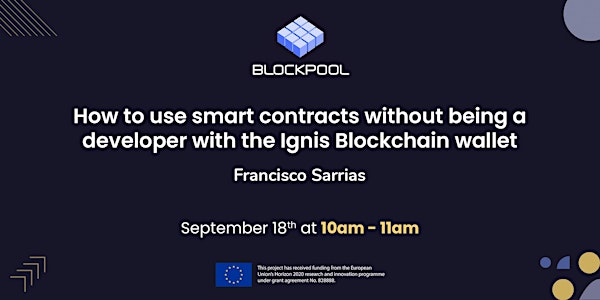 How to use smart contracts without being a developer
This presentation is part of the Blockpool online Bootcamp on September 17 -18, 2020.
About this event
One of the main barriers for blockchain adoption for SME's is the lack of in-house developers for smart contracts, Ignis blockchain provides templates for the most common smart contracts so SME's can use them in their decentralized applications using a web wallet or an easy Rest API interface.
Ignis blockchain runs on top of the Proof of Stake Ardor public multichain platform, one of the more environmentally friendly platforms available right now.The talk will describe the Ignis and Ardor architecture and will demo some of the smart contracts available on the platform.
Speaker
Francisco Sarrias (Partner at MSI floating structures)
Bootcamp agenda
Tap on the links for more information about other events within the framework of the Blockpool Bootcamp: https://bit.ly/338Dwn9
Details
Location: Zoom (access data will be emailed shortly before the start of the event)
Language: English
Registration required via Eventbrite; dial-in via zoom (installation required); maximum number of participants: 300.
Disclaimer: This project has received funding from the European Union's Horizon 2020 research and innovation programme under grant agreement No 828888.