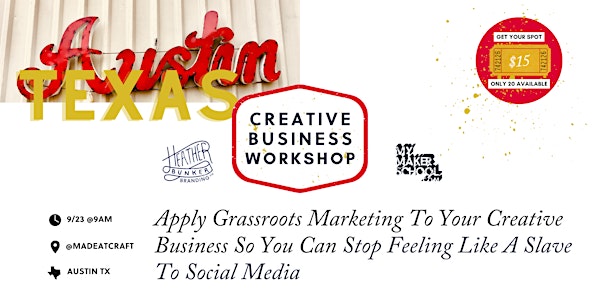 How to Use Grassroots Marketing to Jumpstart Your Creative Business
Learn how to create a authentic brand, connect with your ideal customers and overcome whatever is holding you back as a creative +
When and where
Location
916 Springdale Rd 4 102 916 Springdale Road #4 102 Austin, TX 78702
Refund Policy
Contact the organizer to request a refund.
Eventbrite's fee is nonrefundable.
About this event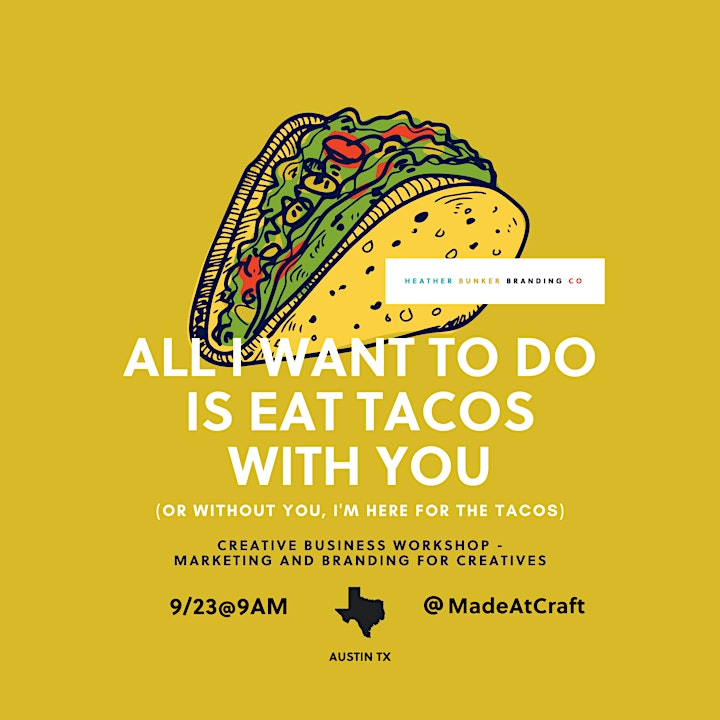 This is a real "work" shop.
My hope is that this workshop will leave you feeling excited about your creative business and leave you with massive business clarity—so be prepared to do some work.
My goal is to give you all the information you need to take your business to first class. Yep. No economy class businesses here. And in order to do that we need to cover a few things—together.
I want to help you understand how to build a brand that connects, grows, and resonates…with YOUR people.
Just bring yourself and a way to take notes. I'll bring the rest! ☕ + 🌮 = :)
During this workshop, we will explore and work through:
Self-limiting beliefs that may be holding you back from showing up consistently
Authentic branding that really tells your story and connects with your audience.
How to identify and find your ideal customers.
Determine your "why" and why it matters.
Actionable steps you can start immediately to market your business more effectively—without using social media.
Event Deets:
Date: Friday September 23rd, 2022
Time: 9-11am
Location: Made At Craft - Located in Canopy Austin
Address: 916 Springdale #4-102 blue building in the back! By the big purple sculpture! Austin, TX 78702
This is an inclusive workshop, so if you are a little shy, please know that you will be welcomed with open arms and a grateful heart. I know that putting yourself out there can be challenging for some artists, and I am here to tell you that I get it. Don't let that fear hold you back from something that could be a turning point in your business. Let's do this together!
Includes:
TACOS + Coffee, workbook and amazing conversation.
With the overwhelming pressure of running a small business and the demands of social media, it can be hard to find ways to genuinely connect with your customers. Let's talk about how you can get out of your studio and build your brand by making real connections that leave a lasting impression within your community, both locally and on your social feeds—but mostly in your bank account.
Heather Bunker Branding Co helps you boot-strap your way to your own personal definition of success. She helps you work through the uncomfortable and necessary parts—the foundations of building a successful creative business. If you are looking to find clarity, create systems, market your work, stand out in the crowd, develop more products that sell and work past any decision paralysis that is holding you back...she, is the business partner that will help you do it.
She offers done for you services like marketing and brand strategies all the way through to helping you get start up funds. She helps you leverage your creativity and adds in the business know-how so you can build a thriving creative business. She is the business "therapist" that you need to gain massive momentum as a professional creative—without any credentials.