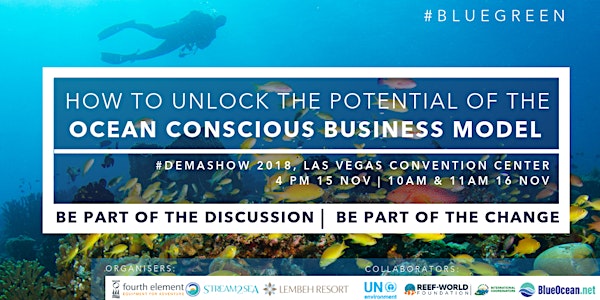 How to Unlock the Potential of the Ocean Conscious Business Model.
Location
Las Vegas Convention Center
3150 Paradise Road
Las Vegas, NV 89109
Description
Go #BlueGreen at #DEMAShow 2018!


Are you attending DEMAShow 2018? Join us at How to Unlock the Potential of the Ocean Conscious Business Model at the DEMA Show 2018, at the Las Vegas Convention Nov 14-17, 2018.
DON'T MISS THIS SEMINAR if you want to ensure a better future for your business. This first-ever seminar series is designed to help dive and travel operators and their employees to embrace core changes that are impacting the dive industry right now.
FIRST-EVER SEMINARS:
This is the first time that attendees will catch a glimpse of the Green Fins approach at the DEMA Show. With a 15-year proven track record, Green Fins is a free system already adopted by 600+ dive operators. Green Fins is a UN Environment initiative managed by The Reef-World Foundation, an NGO tasked with implementing the Green Fins approach at dive operations worldwide.
ABOUT THE PRESENTATION: The seminars, presented by Blue Ocean Network and The Reef-World Foundation, will explain the key consumer and business trends owners need to know about, and how an ocean-conscious approach will address these major changes to unlock a myriad of untapped opportunities.


WHAT YOU'LL LEARN: Attendees will learn about the consumer trends driving the change, and how operators are attracting the fastest growing consumer market ready to buy diving experiences and so much more. Blue Ocean Network's co-Founder Laurie Wilson will discuss the ocean conscious 'blue' business model that is a natural outcome of the Green Fins approach.
Dive into the inner workings of Green Fins with Programme Manager Chloe Harvey and be introduced to several dive operators who are already embracing Green Fins' proven methods. Chloe Harvey will show Attendees how to:
* Reduce costs
* Engage better staff
* Attract new and loyal customers
* Identify new opportunities
* Protect dive sites
WHO should attend? Business owners, managers and instructors who understand the ocean is a business partner. Leaders across all segments of the diving industry; from the dive operation to manufacturers, to resorts to online booking agents.
WHERE to attend? These seminars will be held at the DEMA Show in the show seminar area.
* On Thursday Nov 15, Fourth Element will host the introductory seminar at 4pm in Room N237.
* On Friday Nov 16 at 10am, Stream2Sea will host a second introductory seminar in Room N233.
* On Friday Nov 16 at 11am Attendees are encouraged to get the full benefit by staying in Room N233 for the following hour (11am- 12noon) when Lembeh Resort and Critters at Lembeh will host a deeper dive into live examples and details of the Green Fins approach brought to you by operators involved.

HOW TO ATTEND: Sign up for free by choosing your preferred seminar date - click on the button above right. This will help give us a head count for hand-outs and provide take-aways to those who cannot attend.

FREE RESOURCES:
Attendees will walk away feeling supported; They'll receive a free Green Fins Toolkit to get started, access to a professional network of operators already on the pathway, and learn more about industry initiatives already in place that are inspiring more industry stakeholders to hop on the sustainable ocean pathway. You must register to receive a toolkit. Toolkits will be made available to those who could not attend.
Can't Attend? Join us in December for our fourth annual low-impact, low-carbon virtual Blue Ocean Summit. This year we #MeetAtTheReef to discover action steps for protection, rehabilitation, and restoration. Reef World and Blue Ocean Network will reunite again!
ABOUT OUR SPONSORS: #HealthyOceanHealthyBusiness
These seminars could not be possible without the foresight and collaboration of these leading dive industry companies:
Stream2Sea offers reef-friendly sunscreen and personal care products, tested and proven safe for freshwater fish, saltwater fish, and coral larvae. #Stream2Sea #dontoxybenzone
Fourth Element is innovating dive manufacturing by producing dive gear using ghost fishing nets, biodegradable packaging made from vegetables are leading the latest environmental movement within the industry. #Mission2020
Lembeh Resort and Critters@Lembeh in beautiful North Sulawesi, Indonesia embed ocean-conscious management into their business with their social and environmental initiatives.
Join us at How to Unlock the Potential of the Ocean Conscious Business Model at the DEMA Show 2018, at the Las Vegas Convention Nov 14-17, 2018.
QUESTIONS?
Contact our Community Outreach & Seminar Coordinator, Caitlin Flannery: Caitlin.Flannery@BlueOcean.Net