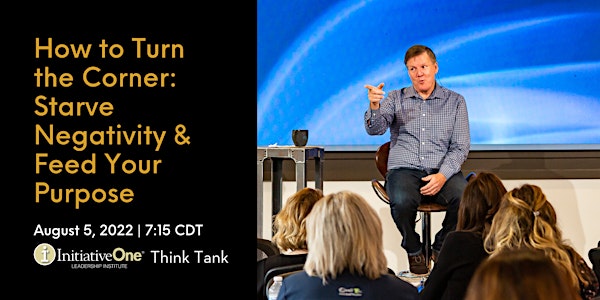 How to Turn the Corner: Starve Negativity & Feed Your Purpose | Think Tank
How to Turn the Corner: Starve Negativity & Feed Your Purpose | iOne Think Tank
When and where
Location
InitiativeOne 110 S. Adams Street Green Bay, WI 54301
About this event
You have a finite amount of time and energy in every day.
How much time and energy are you giving to negativity? Do naysayers drain your resources and divert your focus away from what's most important?
When your purpose is clear and trust is high, accountability thrives. Purpose flourishes from an understanding of a clear direction. The greater your affinity for the destination, the more you'll be able to tap into the power of your potential.
Being clear about your purpose enables you to recognize the new shoreline on the horizon. Purpose enhances your perspective. You will recognize when you're drifting off course. Your purpose provides a unique vantage point, allowing you to see beyond the present with greater passion and clarity.
This is a gift to the community - There is no charge to attend.
Friday August 5, 2022 - Join us live at our office!
7:15am - 7:45am Coffee & Networking
7:45am- 8:30am Presentation & Discussion
This event is IN PERSON and ONLINE
Click the following link to join the iOne Think Tank:
https://vimeo.com/event/2328768/eac18a740e
Our discussion will begin promptly at 7:45am central time and we hope you can join us!