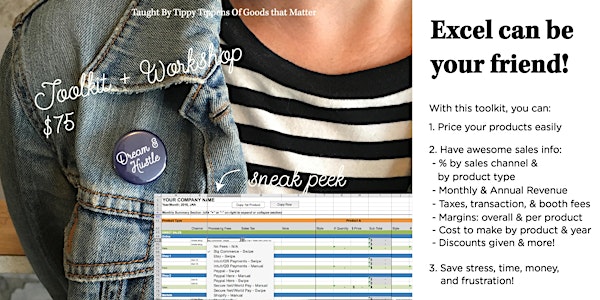 How to Track your Sales + Price your products: A Workshop + Toolkit
Event Information
Location
Launch Pad
643 Magazine Street
Whiteboard Room
New Orleans, LA 70130
Description
Join me at Launchpad for an awesome workshop to help you get your Creative business running smoothly with our sales and pricing tools!
The price of this 2.5 hour workshop includes:
- The Toolkit (Sales Tracking Worksheets, Product Pricing Worksheet, & How-to Booklet)
- Overview of worksheets/Introduction
- Hands on guidance entering your business and product info into your new worksheets.
- If you haven't used Excel much, we will also go over Excel basics to get you rollin'!
- Refreshments, yay!
Please bring:
- Your sales information for the past few months/past year to enter into your new worksheets (however you currently keep track of it)
- Product pricing info for at least one of your products (material & labor costs)
- Laptop or computer with Excel, these can run in google worksheets but Excel is preferred
Testimonials:
"This was a great workshop. I would recommend it to anyone with a small business. Tippy provided some really practical and attainable skills to be able to track sales and price products. I feel like I now have the tools to build my business and grow as an entrepreneur."
"Tippy's done the leg work to create a system that we can all benefit from. I'm so happy to have this new tool for tracking sales in a more holistic and visual way."
"The Sales & Pricing Workshop for Creatives provided me with new and applicable insight on how to price products and track sales with an easy to use toolkit."
"This workshop was awesome and helped us expedite our launch."
More about our toolkit:
How do you track your sales monthly & annually?
Do you know what % of your overall sales come from individual products? Or, what % of sales come from your various sales channels? Or, what is your annual revenue and cost of goods sold per product?
When I first started my business and was asked these questions, I gave a blinking eyes / open mouthed stare. As Creatives, our skills mostly lie in the talents that we have grown in our creative professions. Hey, ask me about Illustrator, Alias, my favorite textile supplier or tape measure - I got that no problmeo!
In the past six years, growing my business, Goods that Matter, I have honed my business skills as well as my creative skills. I have also greatly improved my sales tracking and product pricing tools. My sales tracking worksheets recently went through an awesome overhaul to provide many new features including: both monthly and annual totals per product and sales channel, transaction fees, sales tax, style per product tracking, & % of sales per product and sales channel, profits after costs of goods sold, booth fees, and more.
I realized that these tools would be useful to others & that I could help save you time too, my fellow creative friends, as well as a whole lot of frustration and money. I am so excited to share these business tools with you!
Each business is unique, I kept this in mind while creating these tools so that they meld well with many types of creative businesses. I also know firsthand that Excel can be difficult to use at first and have included many easy shortcuts so that it makes it easiest for you to enter your info into these amazing worksheets!
Check out this link to see all that our toolkit has to offer (regular price $55) & I so look forward to working with you on the 20th at Propeller!
What our toolkit will do for you:
The Product Pricing sheet will:
- Calculate the total cost of labor and materials per product
- Recommend the retail and wholesale price
- Show your profit per unit
- A second pricing sheet also calculates the donation amount per product, if you are interested in giving back to a partner cause. You can change the donation amount & the donation and profit totals are adjusted.
The Sales Tracking sheet will tally:
- Your monthly & annual revenue, margins, and number of items sold
- Track sales per product by style, color, or other variants
- Expenses per product, via Cost to Make aka Cost of Goods Sold (COGS). This info is brought in from the Product Pricing sheet included in the toolkit
- % of Sales by Product and by Sales Channel
- Overall quantities sold per product both individually and by sales channel
- Cost of Markets/Events
- Transaction Fees & Sales Tax Paid, there are drop down menus to select your taxes & transaction fee types per sales channel. Making this SO easy to manage!
- Total Discounts given
- The average price that you are selling your products for (across all sales channels) & more!
*Coffee image by Creativeart, thank you to the kind folks at Freepik.com
Date and time
Location
Launch Pad
643 Magazine Street
Whiteboard Room
New Orleans, LA 70130