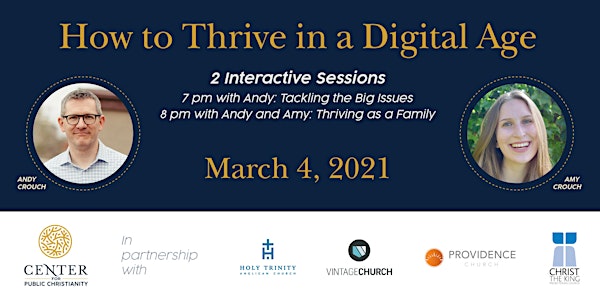 How to Thrive in a Digital Age with Andy Crouch and Amy Crouch
Online Forum with Andy Crouch & Amy Crouch, authors of The Tech-Wise Family and My Tech-Wise Life
About this event
JOIN THE WEBINAR HERE:
The pandemic has only exacerbated our use of technology. We count our digital devices as constant companions. And at what expense? Perhaps you've shared a meal with your spouse or a friend in silence, while fixated on your phones. Or as a family you find yourselves hanging out in far corners of the house, each engrossed in a game, video, work or online shopping. If you are looking for a better way for yourself, your family or your teenager—or all three, then please join us to hear leading author and thought leader, Andy Crouch, and his daughter, Amy Crouch, help you reimagine how to thrive in a digital age. What Andy and Amy won't tell you is to throw away your devices. They won't offer you a list of rules. Instead, you will be challenged to think differently about technology with wisdom, thoughtfulness and courage.
Attend just one or both interactive sessions. The session with Andy and Amy is geared for the family—especially your teenagers so have them participate with you! If you are beginning to prepare your children for personal devices, you, too, will find the second session helpful.
Session 1 at 7pm with Andy: Tackling the Big Issues — Andy will speak to why we can be thankful for technology, the big challenges of technology, and the need for biblical wisdom to guide us. Dr. Joshua Chatraw will join Andy for Q&A.
Session 2 at 8pm with Andy & Amy: Thriving as a Family — Andy and Amy will give us a vision for what our family life can look like and provide some tech-wise steps we can take toward this goal. Panelists from Holy Trinity Anglican, Vintage, Christ the King, and Providence churches will join them for Q&A.
Come away from the evening inspired to live life in God's fullness.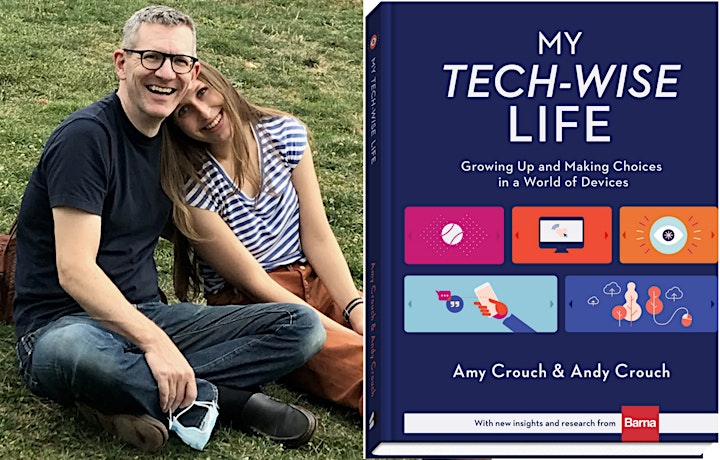 ABOUT THE SPEAKERS
Andy Crouch is an author, speaker, musician, and dad who has shaped the way our generation sees culture, creativity, and the gospel. In addition to his books The Tech-Wise Family, Culture Making, Playing God, and Strong and Weak, his work has been featured in Time, the Wall Street Journal, the New York Times, and Lecrae's 2014 single "Non-Fiction." He was executive editor of Christianity Today from 2012 to 2016 and is now senior strategist for communication at the John Templeton Foundation. He lives with his family in Pennsylvania.
Amy Crouch is a student at Cornell University studying linguistics, English, and anything else she can fit into her schedule. She loves to cook, climb mountains, and chat about books. She and her dad Andy co-authored My Tech-Wise Life.
Sponsors: This forum is brought to you by the Center for Public Christianity in Raleigh, NC, in partnership with Holy Trinity Anglican Church, Christ the King Presbyterian Church, Vintage Church, and Providence Church.