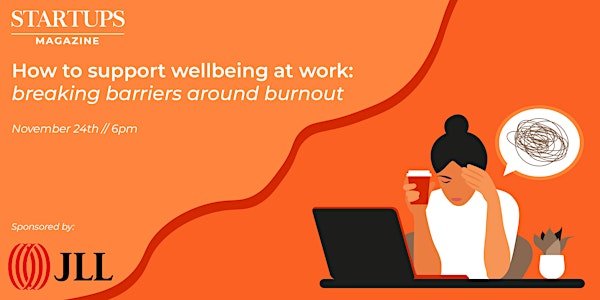 How to support wellbeing at work: breaking barriers around burnout
Join Startups Magazine at Queen Mary Enterprise Zone for an evening of inspiration & motivation!
When and where
Location
Queen Mary University Enterprise Zone 5 Walden Street London E1 2EF United Kingdom
Refund Policy
Contact the organizer to request a refund.
Eventbrite's fee is nonrefundable.
About this event
Celebrating the latest issue: Healthtech and Wellbeing, we will be bringing you an event full of insight around working to avoid burnout and create a positive, productive environment.
Taking place at Queen Mary Enterprise Zone, London on 24th November at 6pm, we will be bringing you an incredible keynote about burnout, how to avoid it and how to overcome it as well as a fabulous panel of healthtech startups that are challenging and changing the industry.
Agenda
6.00pm: Arrival drinks 🥂
6.30pm: Keynote about Burnout
7.00pm: A panel of healthtech startups
7.30pm: Networking & Canapes
9pm: Goodbyes 👋
Hosted by

Anton Brisinger, a native of California and published author, Anton graduated from Exeter University with a degree in English lit and film studies. In September 2022 he joined the Startups Magazine team, and is quickly being absorbed by the world of emerging tech. With a personal interest in technologies around wellbeing and the effects of tech on our health, Anton will be hosting the evening with keen interest.
Keynote
Ashleigh was named Top 100 Change Makers in 2022. She is highly regarded as a go-to source on burnout prevention and confidence building.
In her early career, Ashleigh dominated the events venue management industry with her sales and client experience skills. Her naturally warm and welcoming domeanour propelled her to excel in her career but not without experiencing several episodes of burnout.
This experience led her to hunt, for different mental wellbeing strategies to help her manage her work stress. Over a five year period, she worked on her own personal development, which later led her to get accredited as a life coach.
Ashleigh is passionate about bridging the gap between being a high-achiever and burnout. She believes that by developing a high level of emotional intelligence, will alliviate the impact of burnout and mental health distress.
Today, Ashleigh partners with business leaders, teams and professionals, to reverse the signs of burnout and create simple preventative strategies to build a burnout-free culture using her own methodology of burnout intelligence.
Panel of Healthtech Startups

Tess Cosad is the CEO and Co-Founder of Béa Fertility. Tess scaled her first startup, Emberson Ventures, from start-up to international advertising agency in 3 years, leading global ad campaigns for both Fortune 500 clients and high-growth start-ups. In 2018 Tess founded Hers By Design, and later that year was the first woman to teach a digital startup program in Saudi Arabia, on behalf of the Growth Velocity Academy. She founded Béa Fertility in 2020.

Liam is the Co-Founder of Stix Mindfulness, a tech start-up enabling children to take control of their mental wellbeing; to aid current conditions and build mental fitness for the future. Their first product is a set of hand-held remotes that provide visual, vibration, and auditory feedback to guide children through fun & interactive wellbeing activities.

Gracious is the Co-Founder of Empylo, a platform that uses psychosocial assessments, data analysis and AI to measure employees wellbeing and experiences. She is also a registered mental health practitioner with years of experience working for the NHS. Empylo was developed for HR and Wellbeing professionals; however, employees are at the centre of the platform. It will revolutionise the way companies support people at work by enabling data-driven decision making, trend identification, personalised feedback and automated reporting.

Anas is an A&E doctor and Co-Founder and CEO of Patchwork Health, a healthtech initiative working with over 100 NHS sites across the UK to boost staff retention and help tackle workforce challenges in a sustainable way. Their tech-enabled solution gives healthcare staff access to more flexible working, while making it easier for managers to keep wards safely staffed. To date, they've helped save the NHS an estimated £40 million in temporary staffing costs and enable almost 3 million hours to be sustainably staffed each year.
Sponsored by

JLL is a leading professional services firm that specialises in real estate and investment management. JLL shapes the future of real estate for a better world by using the most advanced technology to create rewarding opportunities, amazing spaces and sustainable real estate solutions for our clients, our people and our communities.
Terms and Conditions:
i. By booking a ticket, you consent to being filmed, recorded and photographed at the event as a member of the audience and to footage and photographs of you being used by Startups Magazine in any medium for the promotion and marketing of Startups Magazine.
You have the right to request to see a copy of the information we hold about you and to request corrections or deletions of the information that is no longer required. You can contact Startups Magazine to stop using your images at any time, (tess.weller@startupsmagazine.co.uk) in which case it will not be used in future publications but may continue to appear in publications already in circulation.
ii. Views expressed by speakers at the event may not be the views of Startups Magazine. Event materials are provided on an "as is" basis and Startups Magazine makes no warranty regarding the accuracy or completeness of those materials.
iii. Speakers and attendees are subject to change and we do not guarantee that any specific speakers or participants will appear at the event. However, we will always try to find a suitable replacement if one of our key speakers or participants is unable to attend.
iv. You attend the event at your own risk. You are responsible for safeguarding your property when attending the event. Startups Magazine will have no liability for property lost, stolen or damaged at the event.