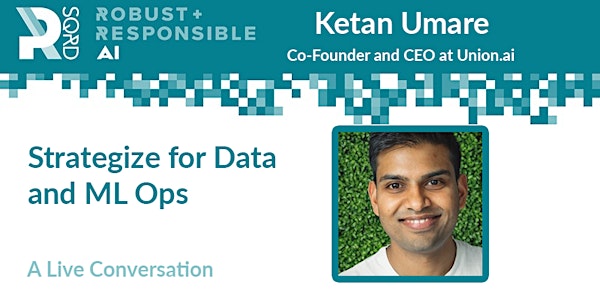 How to Strategize for Data and ML Ops - Ketan Umare
A live conversation with ​​Ketan Umare to learn about ML and data ops strategy
About this event
About this event
We'll be speaking with ​​Ketan Umare from Union AI to learn how to strategize for data and ML Ops
Join the event live to ask questions!
About the Guest:
Ketan is the creator of Flyte and passionate and deeply knowledgeable about large scale distributed algorithms and cloud like systems and a mentor who knows how to build highly functional strong teams.
Follow Ketan's and his amazing work at:
About Robust & Responsible (Rsqrd) AI:
Rsqrd AI is a community of AI builders [engineers, scientists, product managers, etc] who are committed to making AI technology robust & responsible. We regularly organize community events to share knowledge and collaborate on best practices for enterprise-scale AI development.
Join the Rsqrd community Slack to stay connected! https://bit.ly/rsqrd-slack
This group is managed by the wonderful people at whylabs.ai - Enable AI Observability to achieve healthy models, fewer incidents, and happy customers.
Try our open-source data logging project: https://github.com/whylabs/whylogs