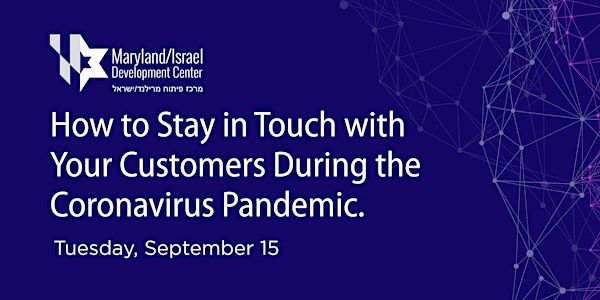 How to Stay in Contact with Your Customers During the Coronavirus Pandemic.
How to Stay in Contact with Your Customers During the Coronavirus Pandemic.
About this event
Date: Tuesday, September 15, 2020 at 8:00 -9:00 AM EST, 15:00 - 16:00 Israel time
So now what I do? The office is closed. Travel is frozen. The economy has stalled. And all you have are What's App and Zoom to communicate. Business people the world over are asking themselves, "How do I have meaningful conversations with customers and prospects?"
No one has the magic answer, but our panel of investment experts are applying years of experience to help their startup entrepreneurs weather the coronavirus storm.
Panelists:
• Moderated by Gail Javitt, member of the MIDC board and Director with the law firm Hyman, Phelps,& McNamara.
• Steve Mensh is Senior Vice President and General Manager of Textron's Electronic Systems and Geospatial Solutions, a global aerospace and defense company, keeps his finger on the pulse of his customers' needs, sets the strategic path to provide solutions, and executes all new product and business development programs.
• Tim West is Vice President of Sales for Advance Business Systems, a managed IT services and document management company, leads new business development programs and services that position the firm at the top of its industry.
• David Warshawski is the Founder and CEO of Warshawski, a full-service marketing, branding, advertising and communications firm, has worked leading global brands to position themselves in front of their customers including Adidas, Black & Decker, Boeing, Credit Suisse, GlaxoSmithKline,Microsoft and the International Olympic Committee.
For additional information, contact Barry Bogage, BBogage@MarylandIsrael.org.