Informative free webinar from industry professionals regarding growing and scaling startup teams after a venture financing event.
About this event
As early stage startup financing rebounds after a slowdown in 2020 and more early stage startups get funded in 2021, the next question becomes, how to grow and scale their teams. Join us for an informative panel where we'll be discussing topics such as the current state of financing for early stage startups; how to best work with your investors after a raise; what the market salary and equity compensation packages look like for founders and early stage startup employees after a raise; and how a founder/CEO can best manage the radical role changes that occur post-financing.
Our panel is composed of startup lawyer, Lindsey S. Mignano of Smith Shapourian Mignano PC, Francesca Puccinelli of Carta, Rebekah Willetts of Sequoia Consulting Group, Robert Ravanshenas of Maven Ventures, and Glenn Gow, the CEO "Therapist".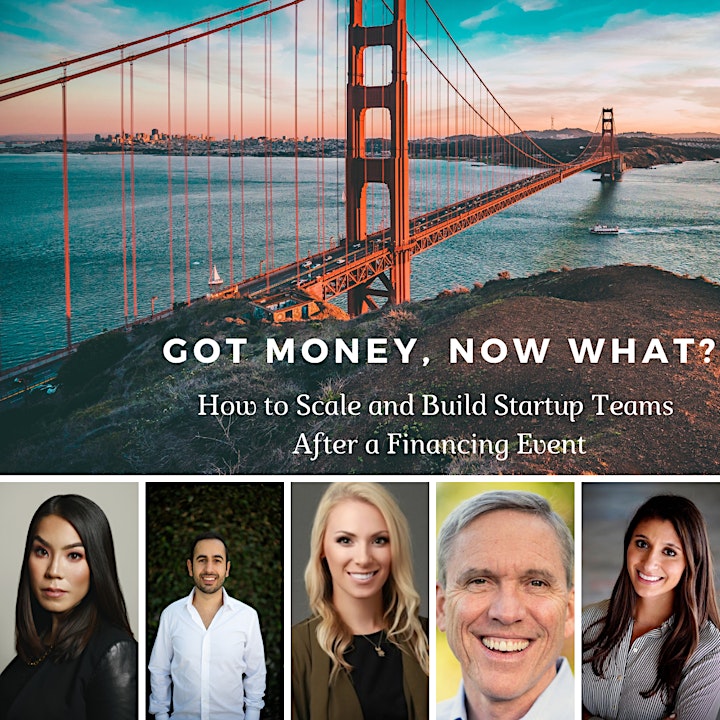 About the Panelists:
Lindsey counsels national and international startups regarding business formation and expansion into US markets, financing, and contractual matters.
Prior to founding her four-woman firm in 2016, Lindsey practiced at an international law firm. She graduated from Iolani School (H.S.D., 2003), Stanford University (B.A., 2007), University of California, Hastings College of the Law (J.D., 2010).
She currently sits on the Barristers Board of Directors for the Bar Association of San Francisco as the President-Elect, on the Board of Directors for Mini Cat Town, Inc., a neonatal kitten rescue, and serves as a Sustainer in the Junior League of San Francisco, Inc.
She received the Outstanding Barristers Award in 2017 from the Bar Association of San Francisco; Women in the Law Committee's Outstanding New Leader Award in 2015 from DRI, an international legal organization for defense and corporate counsel; and a Super Lawyers Rising Star award every year since 2016.
Robert is a Senior Associate at Maven Ventures. He joined Maven in 2015 as the firm's first Associate, supporting the investment team's work backing many of Maven's exceptional entrepreneurs. After three years in the role, he transitioned full time to a Maven portfolio company in the transportation sector, Skip. At Skip, Robert worked in roles across operations, business operations, and finance. He helped launch Skip's scooter sharing service in Portland and San Francisco and worked alongside the startup's leadership on strategic finance.
Robert has since returned to Maven to join the investment team as a Senior Associate. He is exploring new areas of opportunity in early stage consumer software and meeting great entrepreneurs building ventures to tackle them. Robert graduated from Duke University, where he earned a BS in Economics with a focus on Finance and Management and was a finalist in the Duke Startup Challenge with his company Alma Matters, a crowdfunding platform for university students' research and projects.
Rebekah Willets
Rebekah Willetts is a Business Consultant at Sequoia Consulting Group.
Sequoia Consulting Group is an innovative brokerage firm providing full-service competitive benefits, HR, and risk management services to today's hyper-growth companies.
We combine superior client service with our expertise in benefits, risk management, and human resources to help startups and tech companies navigate the market to scale efficiently and thrive while also providing best-in-class tools and infrastructure to meet the needs of the business and their employees from day one.
Started his work life as a software developer
Harvard MBA
CEO for 25 years working with Apple, Google, Facebook, Microsoft, etc.
Venture Capitalist – coaching CEOs of our portfolio companies
CEO coach
Expert in AI (at the board level)
Speaker at the WSJ AI Conference
AI columnist in Forbes
Happy husband, father, friend and outdoor adventurer
Francesca is a Business Development Manager at Carta, primarily working with VCs, law firms, technology companies, and startups in the Bay Area and Greater Pacific Northwest.
Francesca joined Carta during their Series B, and has seen magnificent growth. She has a passion for helping companies scale and working cross-functionally to build products.
Francesca received a Bachelor's degree in Economics and Political Science from Santa Clara University.
***
DISCLAIMER: You, as a participant, agree not to hold panelists or the event moderator ("Event Hosts") liable for any loss, damage, injury, or any other unforeseeable incident arising out of this event. By participating in the event, whether online or in person, you grant permission to Event Hosts to capture your image or likeness at the event, and herein agree to the Event Hosts' privacy policies, which are found on each company's website. By registering for this event, you also consent to receive email communication from the Event Hosts about future events and updates that may interest you. If you have any questions about the event or the sharing of your personally identifiable information, please let us know.