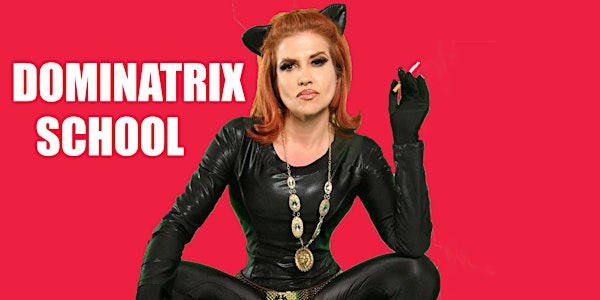 How to Run Your Relationships Like a Dominatrix: Maintaining the Upper Hand
Location
The Art of Female Domination
DTLA / Boyle Heights Area
EXACT ADDRESS with TICKET
Los Angeles, CA 90033
Are you 50 shades of grey curious? Then don't come to this class. If, however, you want to harness your "Pussy Power" then this is for You!
About this event
Are you 50 Shades of Grey curious? Then do not come to this class. If, however, you are a woman who is curious about how you can harness your "Pussy Power" to have more control in your career, over men and in your life through the erotic art of Female Domination, then this class is for you.
Whether you are looking to spice up your sex life, be more in-control professionally, or event thinking about becoming a Dominatrix,  you will get the psychology and tools you need to get started.
This class in the Female Domination series will focus on how to make a man your slave
In this class you'll learn: 
1. What is a Dominant Woman and are you one? How to tell if your man is a slave. 
2. Turning a bitch out: How to make him your slave! The 3 things men will do ANYTHING for, and how to easily use them to your advantage 
3.  Knowing what your want. If You don't know, You can't get it AND there is nothing more irresistible then a Woman Who knows what She wants and TAKES IT. Figuring out what you REALLY want in Your relationships, what REALLY makes you happy, what role you want a man (men) to play in your life. 
4. Different types of Female Led relationships. Is monogamy a cage? Is Polyandry is for you? How to manage a stable of men; slaves, cucks and studs, oh My! 
5. Psychology of a male slave. HINT: All men are slaves when they aren't getting this..... 
6. Pros and cons of chastity training. Should you keep him under lock and key?.  
7. Training a man to be Your slave. What is and isn't a healthy relationship. Establishing Boundaries. AND, Most Importantly, 
8. PUSSY POWER! How merely having a Vagina and knowing You have on gives You power over men. You learn to ensnare them in Your web with or without rope. 
Instructor: Tara Indiana 
This class is open to women only!!! $30 in advance/ $40 last minute, space permitting