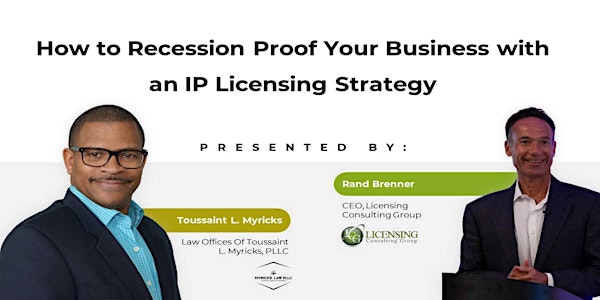 How to Recession Proof Your Business with an IP Licensing Strategy - Replay
Learn how to use your business IP and licensing to create new revenue opportunities in a challenging economic marketplace.
About this event
Don't let a down economy hold your business back.
Success in a recession economy isn't just about getting the finances to remain afloat. It requires breaking out of the "make and sell" mindset and creating new ways to use your IP. When money is tight, licensing is a strategy that "puts your IP to work," generating revenues, securing funding, launching new products, and more. It's a flexible asset that gives you options.
Here's what you'll learn during this webinar:
Five Major Problems Many Businesses Already or Will be Facing Soon
The Top Reasons Why Businesses are Failing to Meet their Financial Goals
The Most Overlooked and Least Effective Part of Most Business Strategies
What You Need to Know about Your IP Business Assets
The 3 Biggest IP-Related Problems inside Many Businesses
What's Required to Create the IP Licensing Strategy Effectively
7 Ways an Effective IP Licensing Strategy Will Immediately Improve Your Business
Why Failing to Have a Proactive IP Strategy can be Fatal to a Business
The Starting Point for Developing the Right IP Licensing Strategy
Why Licensing is Ideal for an Economy in Turmoil
Why Avoiding Litigation Licensing is Critical to Your Financial Survival
15 IP Licensing Strategies and How to Use Them
Real-World Case Studies of Effective IP Licensing Strategies
Resources to Help Your Business Develop and Execute its IP Licensing Strategy
About the Presenters
Toussaint L. Myricks, Esq.
Law Offices of Toussaint L. Myricks, PLLC
Mr. Myricks is a patent attorney and strategy consultant. He advises clients on patent protection, portfolio management, and monetization strategies. He is an MIT graduate and holds degrees in law and engineering. He practices law in Washington State and represents clients before the US Patent & Trademark Office. For more information, email myricks@myrickslaw.com or visit www.myrickslaw.com.
Rand Brenner
CEO, Licensing Consulting Group
Rand Brenner is President and CEO of Licensing Consulting Group, an IP consultancy and licensing firm. He has an extensive career as both licensee and licensor, and has developed licensing programs for several Hollywood blockbusters, including the Mighty Morphin Power Rangers and Batman. For more information, email rbrenner@licensingcg.com or visit www.licensingcg.com.
Sign up today and learn how to recession-proof your business.