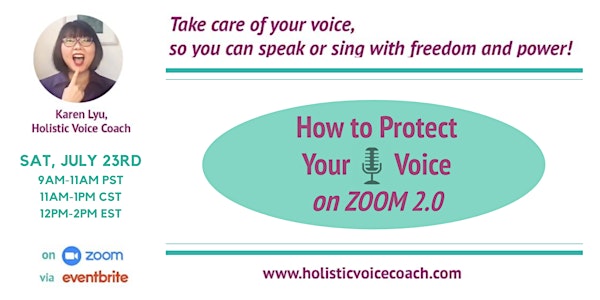 How to Protect Your Voice on Zoom 2.0 - Interactive Zoom Workshop
Refund policy
Contact the organizer to request a refund.
Eventbrite's fee is nonrefundable.
Sales Have Ended
Ticket sales have ended
I'm sorry to have to tell you that ticket sales for the "How to Protect Your Voice ON ZOOM" Interactive Zoom Workshop on Saturday, May 28th at 12pm CST are no longer available. Thanks for your interest! Please email me at karen@holisticvoicecoach.com to join my email list for information about future trainings. Sincerely, Karen Lyu Holistic Voice Coach http://linktr.ee/karenlyu http://www.karenlyu.com http://www.holisticvoicecoach.com
Take care of your voice, so you can speak or sing with freedom and power ~ even on Zoom.
About this event
Do you get Zoom fatigue?
Does your voice ever get hoarse, crack, or strain?
Does your voice lack power, or get tired by the end of the day?
Zoom is still king ~ and it's not going away anytime soon!
If you are not communicating clearly with your clients, classmates, students, co-workers, or your boss on Zoom, that is a disaster waiting to happen.
What can you do?
Learn to take care of your voice, so you can speak or sing with freedom, power, and stamina!
"If you don't make time for your health, you will have to make time for your illness." ~ Peter Sage
This lively and interactive workshop will help anybody who uses their voice every day — to improve their diction, voice projection and resonance, clarity, stamina, and vocal health as well as help reduce sick days and address the challenges of working when sick, among other benefits.
UPDATED Zoom Tech Tips - Learn the latest tech to boost your Zoom experience ~ and make sure that you're clearly understood, with 5 more tips ~ including "high fidelity music" mode
Please be prepared to stand, move, use your voice, use a wall, and have fun! Students will be invited to participate one-on-one and as a group. We will focus on simple hands-on exercises based on body memory. Please arrive 5-10 minutes early to chat, so we can start on time.
NOTE: If you want to learn healthy screaming/voiceover efforts, please email me at karen@holisticvoicecoach.com to get notice of my next "How to Protect Your Voice ~ for VO Actors 2.0" Holistic Interactive Zoom Workshop.
AGENDA
* 7 Common Vocal Health Issues
* 12 Dos to Protect Your Voice
* 5 Don'ts to Protect Your Voice
* 9 Ways to Improve Your Breath & Stamina
* 10 Zoom Tips (5 more than the original)
* Special Offer
* Raffle
RECORDING
* A Zoom recording will be available within 24-hours after the workshop for a limited time.
​CEU Credits
Certification Commission for Healthcare Interpreters: 2 .0 CEUs
International Medical Interpreters Association: 0.2 CEUs
TESTIMONIALS
"I took Karen's "How to Protect Your Voice on Zoom" workshop in February of 2022. As a court interpreter, I am very interested in voice quality because of the strain we put on our vocal cords, especially with simultaneous interpreting. Karen really understood what interpreters do and how the different modes of interpreting affect our vocal cords. She knew exactly what problems we would have, and gave specific, practical solutions. I was so impressed by her clever tips that I decided to schedule private lessons with her, and I have not been disappointed!"
Michelle J. Gonzales - Pooler, GA - State Certified Court Interpreter
"I'm very much so into holistic health and still learned about some new tools and resources. Karen was clear, concise, kind, and helpful. I thoroughly enjoyed this class!"
Erikka J. Veney - Voice Actor/Singer/Writer/Entertainer
"I have always known that Karen Lyu is a master teacher and communicator. It was a pleasure for me to witness Karen present a thorough, but concise blueprint for maintaining vocal health. This webinar is of great benefit for experienced and beginner, vocalists and speakers."
Bruce A. Henry - Chicago, IL - Jazz Vocalist/Voice Coach
"This was a helpful rundown on how to take care of your voice! Karen knows exactly what she's talking about and researches the topic of vocal health meticulously. She recommends many products that might help anyone who has harmed or strained their voice, but also teaches you how to prevent bringing harm to your voice in the first place. It was a wonderful class, and it helped to know that she knew where I was coming from as a voice actor."
Chanelle Thomas - Los Angeles, CA - VO Actor
"If you want to improve your singing or speaking voice, learn how to protect it, and learn how to better use your vocal energy and range, I highly recommend Karen. She has taken my voice to a place I never thought possible. I am also amazed at how her techniques apply to my job as a language interpreter. (* Interpreter colleagues, remember that our voice is our tool, and if we do not care for it, sooner or later we will not be able to perform our job.)
David Morales - Nashville, TN - President of the Tennesse Association of Professional Interpreters and Translators (TAPIT)
ABOUT
Karen Lyu (she/her) is a holistic voice coach and an award-winning singer/songwriter/actor. 2022 is her 25th anniversary year. She is an eHow.com voice expert, a certified New Science of Singing Voice Teacher, a member of the Voice and Speech Teachers Association (VASTA), and a member of the National Association of Teachers of Singing (NATS). Due to her love of jazz, she earned a BSS in Jazz Studies, Vocal Performance from Cornell College in 1993. Karen's honors include a Minnesota State Arts Board grant, a $10,000 arts patron sponsorship, and a MusiCares/Grammy Foundation grant. Karen has sung in over 30 musical styles and in 15 languages. In Minneapolis, MN, she was the Voice Department Head and the Executive Director of the legendary West Bank School of Music. Her fun, compassionate, concise, and results-focused voice trainings for all ages have been offered in MN, TN, and Seoul, Korea at venues such as One World Festival, Korea Improv Theater, Doosan Corporation, Tennessee Language Center, and West Bank School of Music. Also, she holds an OnTESOL TESOL certificate and enjoyed teaching English part-time in Korea. Karen has ADHD, which has made her a more innovative and compassionate vocal coach. She is obsessed with helping people using technology, and has 14 years of experience voice coaching online. Karen has lived in South Korea, CA, TX, MN, IA, and TN - and now loves her new home in Chicago, IL.
Website: http://www.holisticvoicecoach.com
SAMPLE SLIDE