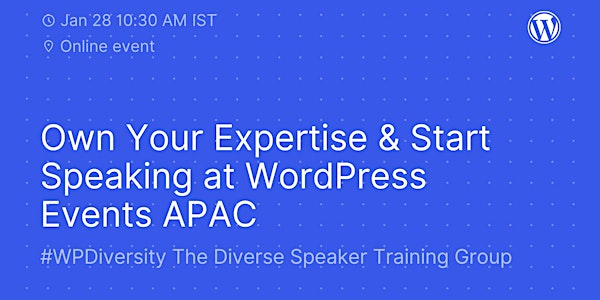 How to Own Your Expertise & Start Speaking at WordPress Events APAC
A 2-hour interactive, transformational online watch party to find a topic and boost your confidence for speaking at WP Meetups & WordCamps
About this event
Does the thought of speaking at one of our Meetups or WordCamps intrigue you? Do you identify as a person with a marginalized or underrepresented identity who is thinking about speaking at a WordPress Meetup or WordCamp? Do you think you don't know or have anything worth speaking about?
The Diverse Speaker Training Group (#WPDiversity) invites you to join us for a workshop in a fun format: an Interactive, Transformational Watch Party!
*** Please Note: You do NOT have to have any experience in public speaking. This workshop is for all levels of experience.
This unique, interactive Watch Party format will be facilitated by Jill Binder and mentors.
Together, attendees will watch the Diverse Speaker Training Workshop Part 1 on the Learn WordPress site and be invited to participate in the engaging and transformative exercises in real-time and getting immediate feedback.
We will cover:
Why speak at WordPress events?
Explore what has stopped you from speaking in the past and how to move past your fears
Dispelling some myths about speakers/speaking
Coming up with topics and choosing one
How to boost your speaking confidence
There will be an invitation to participate actively by:
Working on the video exercises together and receiving live coaching from mentors and attendees
Chatting about the material we are watching in the Zoom text chat
We call this Transformational because you will not simply be sitting and watching a video. Doing these exercises with us creates a profound shift in how you see yourself and your tech knowledge.
This event will be held in English.
Testimonial:
"I felt like you were reading my mind on some of these points about what holds us back from speaking. And the brainstorm prompts are all really, really good. I walked away with a ton of ideas and newfound confidence. I'm excited to talk now. This workshop works!"
– Erika Lewis, WordPress Dev, Washington DC
Zoom link:
After registering your spot in Eventbrite, you will find the Zoom link on the registration confirmation page. You will also receive it by email before the event.
For your convenience, a Google Calendar invite will be sent to you to mark in your calendar and will also include access to the Zoom link.