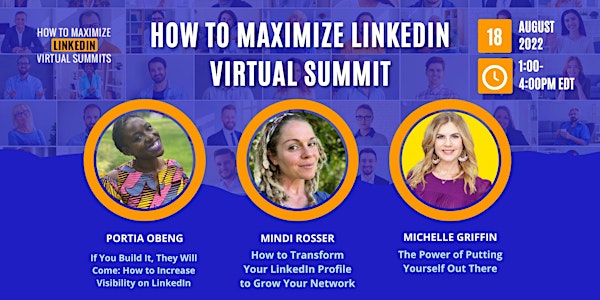 How to Maximize LinkedIn Virtual Summit
How to Maximize LinkedIn Virtual Summits
About this event
In this exclusive LinkedIn Virtual Summit, 3 world-class speakers will be sharing their winning strategies to success on LinkedIn as part of our monthly series. From innovative tactics to step-by-step guides, this virtual summit is designed to teach you how to get game-changing results. Plus, you won't want to miss the easy-to-use formulas that will help you Make LinkedIn a lead-generating machine.
How To Maximize LinkedIn Summit will teach you how to:
How to write a dynamic LinkedIn Headline
Why you need to comment on other people's LinkedIn posts once a day
What type of content you should share on LinkedIn
How to grow your network
How to show up on LinkedIn
How to transform your linkedIn profile to grow your network & business
We've handpicked the very best LinkedIn experts who are going to be sharing what's working for them in their careers—and what will work for you in yours.
How To Maximize LinkedIn Virtual Summits are free to watch from anywhere.
Agenda
Thursday, August 18th
1-2 PM EDT- If You Build It, They Will Come: How to Increase Visibility on LinkedIn with Portia Obeng
2-3 PM EDT - How to Transform Your LinkedIn Profile to Grow Your Network with Mindi Rosser
3-4 PM EDT - The Power of Putting Yourself Out There with Michelle Griffin
Space is limited and will fill up quickly....Get Your FREE ticket now!