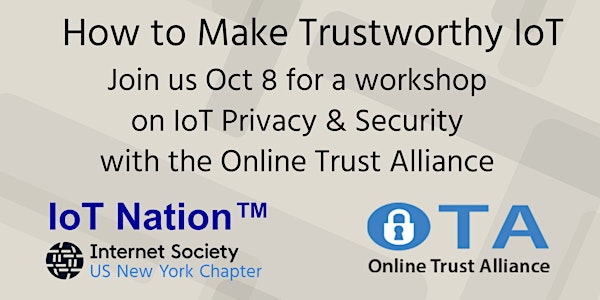 How to Make Trustworthy IoT - IoT Nation & ISOC-NY present an OTA Privacy & Security Workshop
When and where
Location
The HUB at Grand Central Tech 335 Madison Ave 4th Floor New York, NY 10017
Description
Join us Oct 8 for a workshop on IoT Privacy & Security with the Online Trust Alliance
=======================
IoT Nation and the Internet Society New York Chapter (ISOC-NY) present 'How to Make Trustworthy IoT' - an IoT Privacy & Security Workshop with the Online Trust Alliance (OTA)
While the vast number of Internet of Things (IoT) applications promise to impact almost every industry vertical, the growth of IoT is strongly linked to properly addressing the issues of security and privacy. Threats are not just breaches, embarrassing accidents, bad data handling practices, but also the risk of resulting ill-advised regulation. A larger issue is public confidence in the industry as a whole, in a word 'Trust'.
The
Internet Society
, founded in 1992 by the inventors of TCP/IP, has made its mission the fostering of independent collaborative processes to resolve the technical, social, and policy Internet development issues via such multistakeholder fora as the Internet Engineering Task Force (IETF). In 2017 it merged with the
Online Trust Alliance
(OTA) to launch an initiative to enhance online trust, user empowerment, and innovation. The OTA has a broad membership including leading corporations, academic institutions, and other stakeholders. Together they have developed a set of key resources for IoT developers, including the
IoT Trust Framework
, an
Enterprise IoT Security checklist
, a
Smart Home Checklist
, and more. At this workshop you will have the opportunity to not only become familiar with these resources, but also bring your own issues and expertise to the ongoing process of improving them.
Agenda
2:00pm Arrive & Networking
2:30pm Introduction / IoT Nation
* Mitchell Golner, CEO, IoT Nation
2:45pm Introduction / ISOC-NY
* Greg Shatan, President, ISOC-NY
2:55pm Panel: The State of IoT Privacy & Security
* Ken Rashbaum, Partner, Barton LLP
* Bert Kaminski, Chief Commercial Council, GE Digital
* Mitchell Golner, Moderator
3:25pm Keynote: Security & Privacy in the Internet of Things
* Jeff Wilbur, Technical Director, Online Trust Alliance
4:25pm Discussion
4:55pm Member Announcements
5:00pm Networking
About The Speakers / Panelists
Jeff Wilbur
Jeff Wilbur is the Technical Director of the Online Trust Alliance, an initiative of the Internet Society. He is responsible for integrating, developing, and extending the OTA initiative within the Internet Society's overall mission and objectives.
Kenneth N. Rashbaum
Kenneth N. Rashbaum advises multinational corporations and healthcare organizations in the areas of privacy, cybersecurity and e-discovery. He counsels these organizations on information management and its compliance with federal, state, and non-U.S. laws. Ken also prepares and negotiates contracts and license agreements and advises clients on cyber risk insurance and other information use safeguards.
Bert Kaminski
Bert Kaminski serves as Chief Commercial Counsel at GE Digital, where he advises all levels of business and executive management on a broad range of technology related-issues. Bert specializes in the Industrial Internet of Things, cloud computing, and software licensing, including issues involving privacy, cybersecurity, artificial intelligence, machine learning and data science.
About this Event
Please note that this event will be photographed and/or video recorded and/or live streamed. By attending or participating in this event, you are giving your consent to be photographed and/or video recorded and/or live streamed, for this event, and waive any and all claims regarding the use of your image and voice, captured at this event, by IoT Nation and/or ISOC-NY.
This is the first such workshop in NYC, and the benefits for the NYC IoT community are not just to take advantage of the vast experience that has gone into the OTA guidelines, but also to contribute to their ongoing development.
Admission is free. Refreshments will be provided.
====================
ABOUT ONLINE TRUST ALLIANCE
The Online Trust Alliance is an Internet Society initiative. OTA's mission is to enhance online trust, user empowerment, and innovation through convening multi-stakeholder initiatives, developing and promoting best practices, ethical privacy practices, and data stewardship.
https://otalliance.org
The Internet Society is a global non-profit with the mission to promote the open development, evolution, and use of the Internet for the benefit of all people throughout the world. Formed 25 years ago, the Internet Society focuses on the pillars of expanding access and promoting online trust.
https://www.internetsociety.org/
IoT Nation's mission is to inspire, engage, and connect entrepreneurs, investors, professionals, & enthusiasts worldwide who are active in the Internet of Things (IoT). http://www.iotnation.com/
ABOUT ISOC-NY
ISOC-NY is the Greater New York Metropolitan Area chapter of the Internet Society (ISOC). Our mission: 1. in support of ISOC, to assure the beneficial, open evolution of the global Internet; 2. to promote local initiatives, maximize the societal benefits which the Internet can bring to the New York area; and 3. to advance the professional development of ISOC members in the New York area.