Description
Create your graphics, apps, and games faster with Pixi.js--the fastest 2D renderer
Find out about the features and how Pixi.js has been used on cool projects straight from Mat Groves, the Creator of Pixi.js, and ask him questions in real-time. If you're a game or app developer, this webinar is for you! Learn more here.
The link to the webinar will be given after registration is complete.

What is Pixi.js?
Pixi.js is a rendering library that allow you to create rich, interactive graphics, cross platform applications, and games without having to dive into the WebGL API or deal with browser and device compatibility.


What will you learn?
Overview of Pixi.js

Overview of Pixi.js

New features of Pixi.js V4 and how it works

How Pixi.js has been used on cool projects


About the Speaker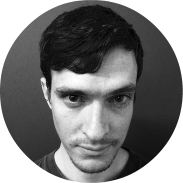 Mat Groves is a London-based creative developer who has been doing the digital rounds for nearly 10 years. Co-founder and technical partner of Goodboy Digital, Mat loves to code all things visual. Formally a Flash/Objective C developer, Mat migrated into the world of HTML5 having seen how awesome and capable it had become.


All questions answered on the spot
After his presentation, Mat will be answering questions that you might have about Pixi.js, and game/app development in general. Don't miss this rare chance and register today!
Cheers,