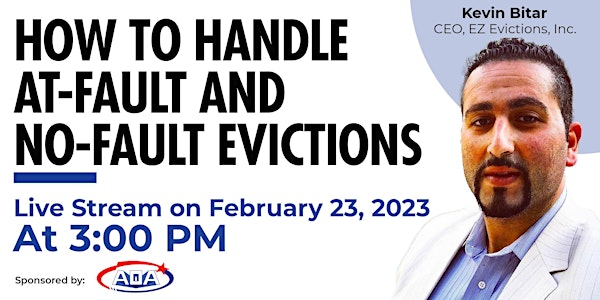 How to Handle At-Fault And No-Fault Evictions
Kevin Bitar | EZ Evictions, Inc
By Apartment Owners Association
Date and time
Thursday, February 23 · 3 - 4pm PST
About this event
How to Handle At-Fault And No-Fault Evictions
In this AOA Live Stream, you will discover:
At-Fault Evictions - Violations that can terminate a tenancy
No-Fault Eviction, Owner move-in, sale of property, etc.
Relocation Assistance - How funds should be allocated for tenants and what factors determine the amount
Founded in 2010, EZ Eviction, Inc. works through every aspect of your case, ensuring 100% client satisfaction. EZ Eviction's 21 Team members have helped evict over 10,000 tenants, and they maintain a 92% success rate.
Mr. Bitar began his professional career as a teenager telemarketing for Countrywide Home Loans. He was quickly promoted to a loan officer, managing a team of 46 realtors and licensed loan offers. By 2008 he was managing the third largest brokerage in the nation with over 2,000 agents nationwide. In 2012, Kevin opened EZ Eviction, Inc. specializing in landlord/tenant law.
Contact Info:
EZ Eviction, Inc.
800-558-0909
EZEviction1@gmail.com
About the organizer
Founded in 1982 by Daniel C. Faller, AOA has become one of the largest apartment associations in the United States, thanks to you, our loyal members.
Don't forget to click on FOLLOW to get alerts of newly scheduled seminars!