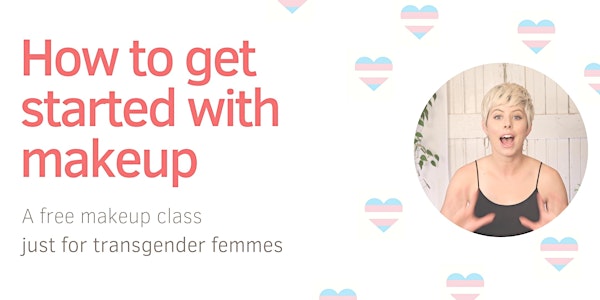 How to Get Started With Makeup : A class just for transgender femmes!
Ready to ditch all the overwhelm when it comes to makeup (& become a pro in no time)? This class is for you!
Refund Policy
Contact the organizer to request a refund.
Eventbrite's fee is nonrefundable.
About this event
If you're transitioning and dying to dive into makeup, chances are you've been feeling both excited...and UTTERLY CONFUSED!
You've probably noticed:
👎 It's hard to know where to even begin--what should you even start with?!
👎 There are a million products out there and it's not very clear which ones you should buy (and which ones you shouldn't)
👎 YouTube barely has any tutorials geared towards transgender folks
👎 It's borderline impossible to know if you're on the right path or not even after you've been practicing a while!
If this sounds familiar--you're in the right spot!!!
I'm celebrity makeup artist Melissa Murdick (@MakeupByMelissaM on Instagram), and aside from painting some of Hollywood's leading ladies like Selena Gomez, I also run a website called www.ThePrettyFix.com where I teach trans folks just like you how to do your makeup like a pro! I am also the current makeup instructor at the Los Angeles LGBT+ Center's Trans Lounge.
If you're ready to learn:
🙌 The absolute BEST way to learn makeup as a whole (instead of piecing together random tutorials)
🙌 The exact products you should be starting with (and the products you should be avoiding as a newbie)
🙌 How to shop like a pro to get the products you need
🙌 Plus, tons of my other pro tips 'n tricks to make sure you're on the right track
This class is exactly what you need to succeed!
I've been doing makeup professionally for almost 18 years, and have taught hundreds of trans folks just like you how to go from total newbie to pro.
No matter where you are at on your journey, this class will give you the confidence you need to keep moving forward with makeup.
Plus, at the end I will do a live Q and A to answer any questions you have!
Can't wait to see you soon--
Melissa
*BY SIGNING UP FOR THIS EVENT YOU AGREE TO SUBSCRIBE TO MY EMAIL LIST FOR WWW.THEPRETTYFIX.COM. YOU MAY UNSUBSCRIBE AT ANY TIME*
PS...I offer these classes free of charge to make them accessible to everyone in the community, but donations are always appreciated. To donate, choose the 'donation' ticket and enter the amount. Thank you so much for your support!
PPS...I do not record these sessions in order to protect everyone's anonymity, so you will need to attend live. If you can't make it--don't worry! Visit my site www.theprettyfix.com to see all of the other ways you can learn from me instead!