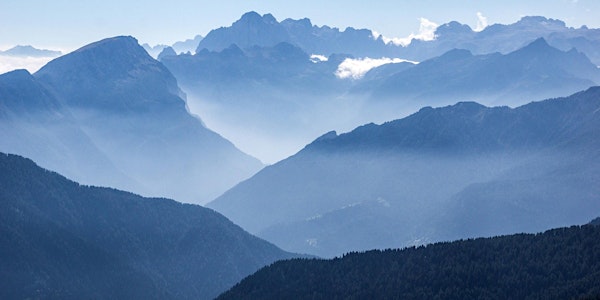 How to Foster Deep Time Thinking
Apr 5: A Long Now Boston Community Conversation with Vincent Ialenti, and panel guests Bina Venkataraman and Cristina Parreno Alonso.
Refund Policy
Contact the organizer to request a refund.
Eventbrite's fee is nonrefundable.
About this event
SPECIAL NOTICE: April brings two climate change-themed events to the Long Now Boston community, both part of the month-long Cambridge, MA Science Festival 2021!
How to Foster Deep Time Thinking (see below) and
DearTomorrow (April 19, 7:30PM), which offers an interactive program fostering personal, emotion-based conversations about climate change to inspire action towards a secure and sustainable future.
Vincent Ialenti studies deep time through an anthropologist's lens. In Deep Time Reckoning he highlights two alarming global trends:
The environmental cascades of the Anthropocene are propelling the Earth towards global collapse.
Cultural shifts are causing the "deflation of expertise", undermining scientific and technical competence and eroding collaboration and consensus.
Vincent draws upon his detailed field investigations of the Finnish nuclear waste repository 'Safety Case' project for insights on how to respond to these colliding trends. His answer: a multidisciplinary and multitemporal effort, which he calls "Deep Time Reckoning." This is not about being right or wrong, but applying human imagination to envision the future and to forge creative pathways forward.
long-termVincent sees great hope in Deep Time Reckoning. From his fieldwork among nuclear waste experts, he has extracted practical recommendations for transforming our understanding and building Deep Time Reckoning into our lives and our institutions.
Join Vincent and other Long Now thinkers as we discuss How to Foster Deep Time Thinking. Vincent will give a presentation, and then two special guests, Bina Venkataraman and Cristina Parreno Alonso will join him for a panel conversation.
Among the questions we hope to address:
What time scales are the most important, and the most difficult, to envision?
How are the tools of an anthropologist useful for Deep Time explorations?
What motivations drive the Finnish Safety Case process? Can we inspire those motivations in other situations?
Where do we start?
Join the conversation and be part of the solution.
$5 in advance. Students admitted free.
Audience participation is encouraged.
About the speakers:
Vincent Ialenti is an Assistant Research Professor at George Washington University and a MacArthur Postdoctoral Fellow at the University of British Columbia. His new book, Deep Time Reckoning the future (MIT Press, 2020), draws on his anthropological fieldwork among Finland's nuclear waste repository experts to propose imaginative strategies for envisioning far-future worlds. He earned a Ph.D. in Sociocultural Anthropology from Cornell University and an MSc in Law, Anthropology & Society from the London School of Economics.
Bina Venkataraman is the Editorial Page Editor of The Boston Globe, a fellow at New America, and has taught at MIT. She is the author of The Optimist's Telescope, named a best book of the year by Amazon, Science Friday, and National Public Radio. Bina spoke to Long Now Boston in March of 2020: Long Term Thinking in an Age of Recklessness.
Cristina Parreño Alonso is an architect and artist who specializes in activating public spaces through architecture and art installations. She is an educator at the School of Architecture and Planning at MIT, where her research Transtectonics explores cultural, contextual, and environmental implications of expanded temporal sensibilities in architectural material practice. In 2017 she was selected by Boston to install her permanent art Installation "Artificial Natures" in Hyde Square. Cristina has taught design at SUNY Buffalo and the Harvard GSD.
We're proud and excited to welcome Vincent and guests Bina and Cristina to the Long Now Boston community.
Cambridge Innovation Center is an in-kind sponsor Long Now Boston. We are very grateful for their support.