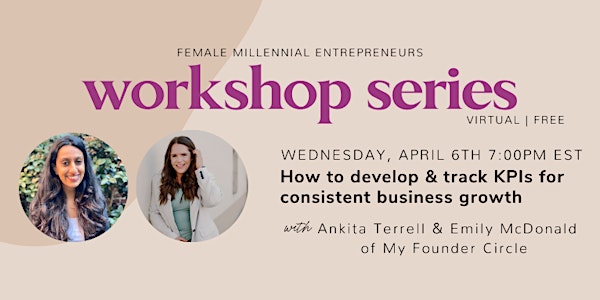 How to develop & track KPIs for consistent business growth
How to develop & track KPIs for consistent business growth
About this event
Join fellow female entrepreneurs for an actionable workshop on KPIs (key performance indicators) in business, specifically how to identify, develop, and track the KPIs that will make an actual difference toward your business growth. Having strong and smart (and trackable!) KPIs ensures you're making consistent progress on the things that actually matter for moving forward each month. Learn how to determine what those are for you, and how to track them.
Pour yourself a glass of wine or tea, tune into this virtual workshop, and have a chance to network with other female entrepreneurs while you learn some immediately actionable information that will drive your business forward.
As always at our events, we'll have 5 minutes at the end for random small group networking, so you can actually walk away with contact info for 3-4 other women you formed a relationship with.
The experts: Together, Emily and Ankita are the co-founders of My Founder Circle, a community helping female founders of all stages, launch, grow and scale their businesses.
Emily McDonald is a passionate entrepreneur who helps female founders scale their businesses. Emily scaled her first business, a fashion company, to 7 figures in revenue. She grew and ran a team of over 15 employees, launched retail stores across California and raised over a million dollars in Venture Capital. She is a founder who has intimately experienced the ups and downs of running your own company and has the perfect, unique experience to help other founders do the same.
Ankita started her career as a venture capital fellow in New York, backing women-owned startups. She then spent a few years working in marketing and financial analytics, before leading strategy and operations for a large nonprofit and managing a team of 23.
She's created several businesses along the way, including Intentional Money which is a platform, community and hub for the socially conscious millennial and entrepreneur, and helps them manage their finances with ease. Ankita is a meditator, a KPI nerd, and happy hour (aka oyster) enthusiast. She has a degree in Economics from Bryn Mawr College and an MBA from Georgetown University.