How to Create Healthy Relationship Patterns Workshop with Amy Chan
About this Event
Create Healthy Relationship Patterns
Join Amy Chan, Author and Founder of Renew Breakup Bootcamp for a 2-hour, live workshop where you will learn:
Science of attraction - learn why we choose people who are bad for us and how to stop the pattern
Attachment Theory and how to become more secure in how you attach to romantic partners
Rewire Subconscious beliefs - you'll go through a step-by-step process to shift a deep-rooted belief that's blocking you from creating the love you want
Emotional addiction -you'll learn how to interrupt the cycle of negative emotional patterns
**Anyone who registers will get access to the workshop recording and can replay the for 3 months.
Who is this workshop for:
This workshop is for anyone who's been through a breakup/divorce, anyone who's single and frustrated with dating, and those who want to shift their relationship patterns. Open to women and men.
What's included:
2 Hour Live Workshop with Amy
Replay of workshop for 3 months
Exclusive Worksheets and Templates
Live Q&A where Amy will answer individual questions
Access to private Facebook group for Renew community where you can ask questions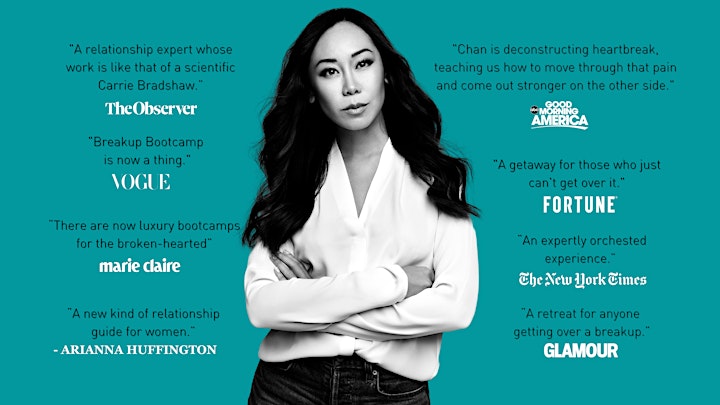 ABOUT AMY:
Amy Chan is the Founder of Renew Breakup Bootcamp, a retreat that takes a scientific and spiritual approach to healing the heart. She is also the Editor-in-Chief of Heart Hackers Club - an online magazine that focuses on the psychology behind love, lust and desire. The Observer calls her "A relationship expert whose work is like that of a scientific Carrie Bradshaw" and her company has been featured across national media including Good Morning America, Vogue, Glamour, Nightline and the front page of The New York Times. Her book, Breakup Bootcamp - The Science of Rewiring Your Heart, published by Harper Collins is available now.
Date and Time
Location
Refund Policy