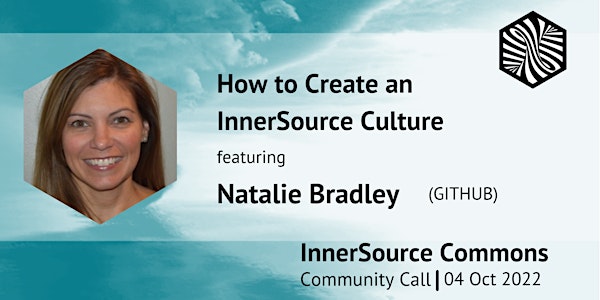 How to Create an InnerSource Culture
How to Create an InnerSource Culture
About this event
As culture is a big driver for InnerSource, so is creating the right organizational foundation for a successful program. This presentation will talk about culture, the importance of building the right foundation and proven tips you can leverage to create for a lasting InnerSource culture. Natalie Bradley will discuss how she has supported large Enterprise and USG customers in their initiative to implement InnerSource, increase usage and knowledge of these tools while helping to build a more collaborative culture.
After the initial panel discussion, we will be facilitating an open Q&A on the topic that will be held under the Chatham House Rule. Join us there to share your insights, challenges and best practices.
This community call will be starting at 5pm GMT+1 / 6pm CEST / 11am CST / 9am PST
AGENDA
Please note that doors will open 15 minutes before the session starts, and we encourage you to join for some virtual hallway chat.
[05 mins] Welcome
[25 mins] Panel
[25 mins] Community Discussion: This part of the community call will be held under the Chatham House Rule. Participants will be free to use the information received, but neither the identity nor the affiliation of the speaker(s), nor that of any other participant, may be revealed. This part of the event will not be recorded.
[5 mins] Wrap-up
We typically also leave some space after the formal end of the event for some more informal chat. Please feel free to join us.
SPEAKER BIOS