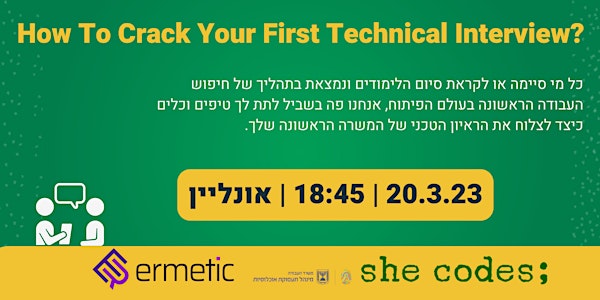 How to crack your first technical interview? | Ermetic & she codes;
איך לפצח את הראיון הטכני למשרות פיתוח? מפגש וירטואלי עם דוברות מחברת ארמטיק שיעזרו לך לצלוח את הראיון הטכני הראשון שלך
Date and time
Monday, March 20 · 9:45 - 11am PDT
About this event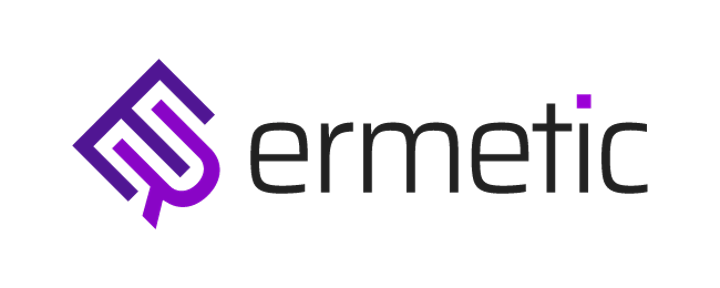 אודות Ermetic
ארמטיק היא סטארטאפ בעולמות הקלאוד סקיוריטי שמטרתו להגן על תשתיות הענן של חברות וארגונים. היום אחד האיומים הגדולים על חברות הוא תקיפת המידע הרגיש הקיים בענן שלה, כשכמות המידע והשימוש בענן רק גדלים ומתעצמים. לכן, ארמטיק פיתחה פלטפורמה המאפשרת מיפוי כולל וניטור של כלל הנכסים הדיגיטליים הקיימים בענן,תעדוף וניהול סיכונים, זיהוי פעולות חריגות ותיקון אוטומטי של נקודות חולשה וסיכון.
ארמטיק הוקמה ב2019 על ידי 4 פאונדרים מנוסים- שי מורג, מיכאל דולינסקי, סיוון קרגסמן ואריק גומנובסקי ומונה כ130 עובדים גלובלית.


אודות ;she codes
אמונה בעצמך | התמדה | קהילה
קהילת ;she codes היא קהילה טכנולוגית של נשים שהוקמה במטרה להגיע ל-50% מפתחות תוכנה בתעשיית ההיי-טק הישראלי, וקידום נשים בתפקידים טכנולוגיים. היא הוקמה ב-2013 בידי רות פולצ'ק ומונה כעת למעלה מ-50,000 חברות קהילה. בין חברות הקהילה והמשתתפות נמצאות נשים המבקשות להתנסות בפעם הראשונה בתחום, נשים הרוצות ללמוד פיתוח תוכנה או לעשות הסבה מקצועית, סטודנטיות בתחומים טכנולוגים ובתחומים אחרים, מפתחות שבאות במטרה להתפתח מקצועית ולפגוש מפתחות אחרות ועוד.
נכון ל-2021, אנו מפעילות מעל -40 סניפים בכל רחבי הארץ. בסניפינו מוצעים מעל 13 קורסים טכנולוגים, בדגש על לימודי תכנות. הסניפים מיועדים לנשים מהצפון ועד הדרום, ביניהם ישנם סניפים יעודיים לסטודנטיות, נשים חרדיות, נשים מהמגזר הערבי וכן סניפי נערות "הדור הבא".
הפעילות בסניפים מתבססת על מאות חברות קהילה מקצועיות המפעילות את הסניפים ואת הקהילה כולה ונעשית בתמיכת הארגונים המארחים את הסניפים השונים ביניהם: Google, Amazon, IBM,Microsoft , ובכל האוניברסיטאות בארץ. כל זאת נעשה בעזרתן ובתמיכתן של קרנות שונות כגון: Jewish Funders Networks, NCR, Paul E. Singer, קרן עזריאלי ועוד.
בנוסף ללימוד הקורסים אנו מציעות מעטפת של הרצאות טכנולוגיות, סדנאות קריירה, אירועי סטודנטיות, מרתוני תכנות נטוורקינג ועוד.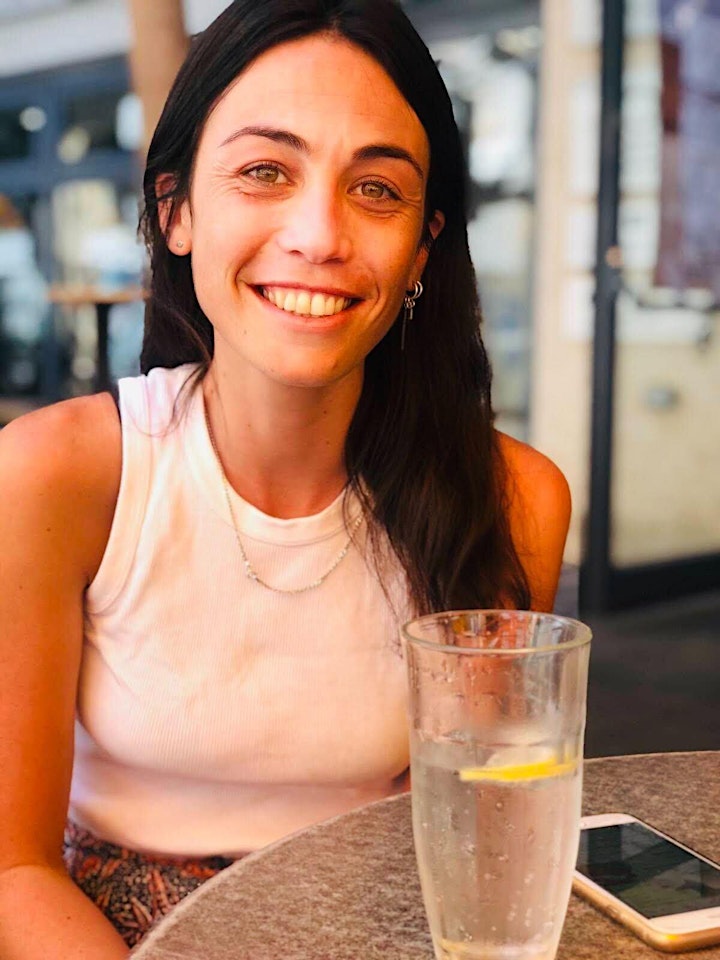 שי בצלאל, HR ב-Ermetic
בת 30, מקיבוץ ניר-עם.
בוגרת תואר פסיכולוגיה ומדעי ההתנהגות מהמכללה למנהל. שי התחילה את הקריירה שלה בגיוס דרך חברות השמה גדולות, חברות בינוניות וסטארט-אפים. מעל חמש שנים בעולמות הגיוס וכיום מנהלת תהליכי גיוס טכנולוגיים ואבחונים מקצועיים מקצה לקצה בארמטיק.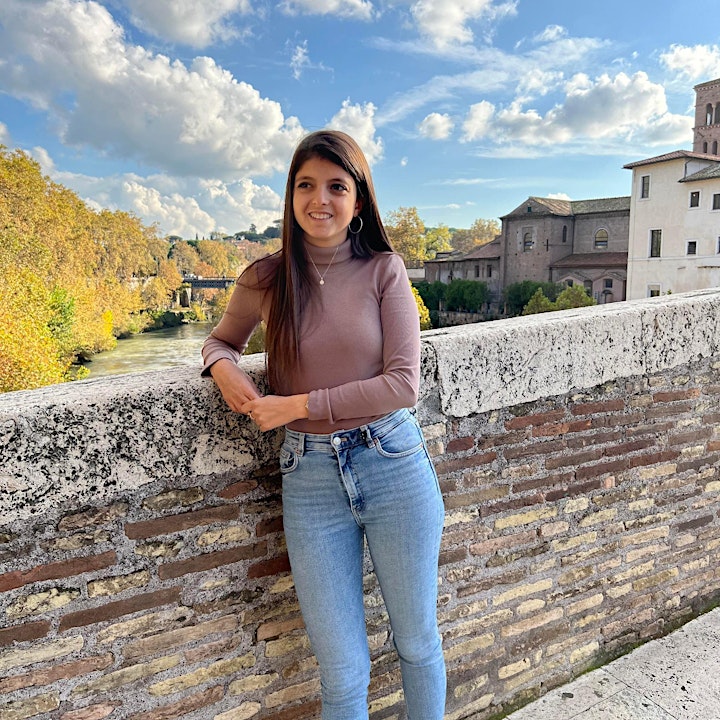 נוי שמריהו, מפתחת תוכנה ב-Ermetic
בת 28, מבת ים.
נוי בוגרת תואר מדעי המחשב מאוניברסיטת בר אילן. שירתה בצבא ביחידת 8200 כ-6 שנים ובמקביל לתואר השני שלה במדעי המחשב.אחרי שירות משמעותי ביחידה טכנולוגית, ניהול צוותים, הכשרה ופיקוד - החליטה להשתחרר מהצבא לאזרחות, ולחפש את המשרת פיתוח הראשונה שלה, והגיע למשרה שלה כיום - מפתחת תוכנה פול-סטאק בארמטיק.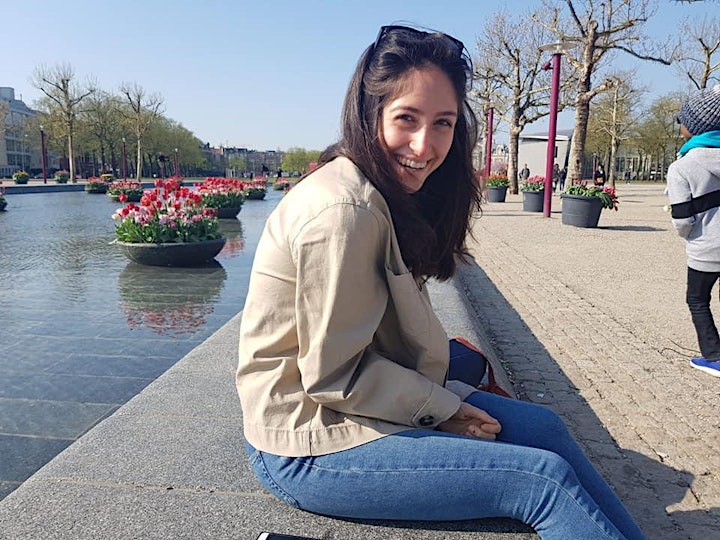 שירה שגב, מפתחת תוכנה ב-Ermetic
בת 25, מתל אביב.
שירתה בצבא ביחידת 81 כמתכננת מכאנית. במהלך השירות תבאי למדה לתואר מדעי המחשב באונ' בן גוריון ועבדה כסטודנטית בחברת Dell תוך כדי הלימודים. שירה "עבדה" בחיפוש העבודה ולמדה עצמאית איך לחפש עבודה וללמוד נכון לראיונות טכניים ובזכות זה קיבלה המשרה הראשונה שלה שהיא המשרה שלה כיום - מפתחת תוכנה בארמטיק.
About she codes;
she codes; is the community of female software engineers, established in 2013 by Ruth Polachek with the goal of reaching 50% female software engineers in the Israeli hi-tech industry. The she codes; community consists of over 50,000 members taking part in educational technological activities in over 40 branches throughout Israel, in all the Universities, in tech hubs and leading tech companies such as Google, IBM, Facebook, Intel and Amazon.
she codes; offers all women in Israel with an interest in the technology field the opportunity to develop a career in software engineering, as well as continuing education for women who are already part of the hi-tech industry.
Furthermore, she codes; offers educational programs for young girls and women of different ages who strive to deepen their technological skills, expand their knowledge and engage with other girls and women who are software developers.