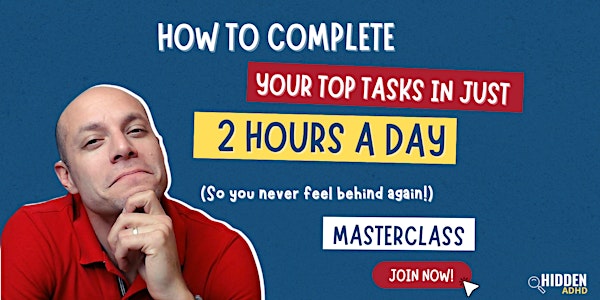 How to Complete your Top Tasks in 2 Hours a Day so you Never Feel Behind
FREE TRAINING FOR WORKING PROFESSIONALS WHO HAVE ADHD
About this event
By the end of this training you will know...
Why motivation is so fleeting and how to fix that
How to be productive using just 8% of your day
Why rigid productivity systems don't work
The essential ADHD productivity tactic nobody talks about
About Aron
M.S. in Coaching Psychology; Harvard graduate
Broke, divorced, and earning minimum wage at 33 and then rebuilt his life after ADHD diagnosis
CEO of a six figure business with over125,000 followers (after a successful Fortune 500 career)
Why are you doing this?
I'm sharing my proven method for free as a way to build my audience and get connected with potential customers
At the end of the training, if you're interested in learning more about my 6-month productivity transformation academy, you can stay on for that details, but you are also welcome to drop off
What attendees have said about my free trainings...
"I came out of the training feeling motivated to implement meaningful change!" - Chris
"Aron shared a generous amount of helpful and actionable info in a single session. So glad I checked it out!"​ - Charles​
"Aron introduced a handful of easy to understand concepts that will undoubtedly stay with me and help me to become a better version of myself." - Jon
"Aron provides unique strategies that are based in research and make sense for ADHD brains!" - Melissa