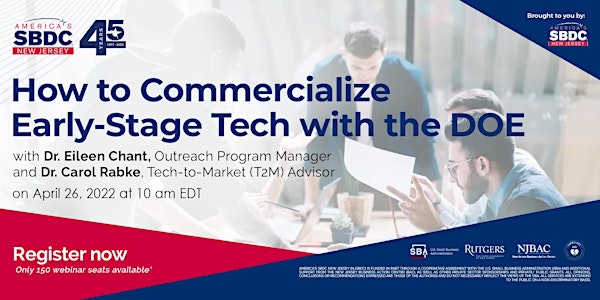 How to Commercialize Early-Stage Tech with the DOE
Are you an innovator with an early-stage technology that has commercial potential or you're already applying for the DOE SBIR/STTR programs?
About this event
The U.S. Department of Energy (DOE) Small Business Innovation Research (SBIR) and Small Business Technology Transfer (STTR) programs are U.S. Government programs, intended to help certain small businesses conduct R&D. At DOE, funding takes the form of grants. Projects must have the potential for commercialization and meet specific DOE mission-specific R&D needs.
On this webinar we discuss what the DOE SBIR/STTR provides early-stage, nondilutive R&D funding for small businesses to develop their technology and commercialize it. Come learn about the surprising breadth of topics funded by DOE SBIR/STTR! Additionally, the DOE Program Managers will discuss how to access DOE SBIR/STTR application assistance programs, the emphasis placed on commercialization and the power of partnering.
The DOE Office of SBIR/STTR Programs speakers will be Dr. Eileen Chant, Outreach Program Manager and Dr. Carol Rabke, Tech-to-Market (T2M) Advisor.
Guest Speakers/Partners:
Kelly Brozyna, State Director & Chief Executive Officer, America's SBDC New Jersey (NJSBDC).
Judith Sheft, Executive Director, New Jersey Commission on Science, Innovation and Technology (NJCSIT).
John Blackstock, District Director, New Jersey District Office, U.S. Small Business Administration (SBA).
About the Presenters:
Dr. Eileen Chant, Outreach Program Manager
Eileen Chant joined the DOE as the Outreach Program Manager at the Office of SBIR/STTR Programs in 2020. Eileen is a Mechanical Engineer with has over 25 years of experience. Her diverse experience area encompasses design and modeling of diverse energy technologies including novel cooling and dehumidification processes, fossil and nuclear power and hydrogen storage. She also has over a decade of experience as an ASME Section VIII pressure vessel analyst and aiding startup companies with technology evaluation and grant writing. Eileen has extensive experience in Knowledge Management and as a Director with non-profit engineering and other volunteer associations. She received her PhD in Mechanical Engineering from Georgia Institute of Technology.
Dr. Carol Rabke, Tech-to-Market (T2M) Advisor
Carol Rabke joined the DOE SBIR/STTR Programs Office in July 2021 as a Technology to Market (T2M) advisor. In this role, she is focused on improving partnering of SBIR/STTR applicants and awardees providing resources to help them build the necessary relationships at each step of the development path. The goal is to improve both research and commercialization outcomes.
Prior to joining DOE, Carol spent over twenty years working in the SBIR/STTR community as a commercialization service provider while employed by Dawnbreaker. During this time, she worked with hundreds of SBIR/STTR funded small businesses - the bulk of which were NSF-funded or DOE-funded. She served as the program manager of Dawnbreaker's Phase I commercialization programs for both NSF and DOE and played a key role in developing the Virtual Strategic Partner Introduction (VSPI®) Series that facilitated virtual introductions between small businesses and perspective partners from industry and the investment communities.
Carol has a Ph.D. in physical/analytical chemistry from the University of Utah where she built several scanning tunneling microscopes and an atomic force microscope for biological applications. She has authored several peer reviewed publications including articles in Science and Langmuir.