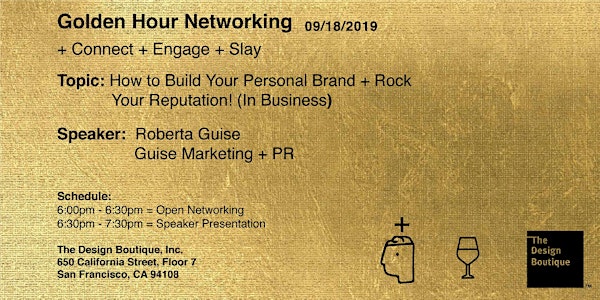 How to Build Your Personal Brand + Rock Your Reputation! (In Business)
When and where
Location
The Design Boutique, Inc. 650 California Street 7th Floor San Francisco, CA 94108
Description
How to Build Your Personal Brand and Rock Your Reputation!
It's all the rage: business and career articles, seminars, podcasts and every social media platform invented tell us we each need a personal brand. But what exactly is a personal brand? Why is having one critical in today's workplace and social environments?
Giving light to this emerging yet vital topic, personal branding and marketing expert Roberta Guise will deep dive into her process for intentionally developing our personal brand. She'll share her Seven Signature Traits of Personal Branding™, and give us tips for building a rock-solid reputation.
Key takeaways—
Learn the seven critical success factors to building your personal brand
Recognize the framework for getting acknowledged for what you know, and the real meaning of thought leadership
Understand how to ensure your reputation aligns with your personal brand
About Roberta Guise
Through her consulting practice, Guise Marketing + PR, Roberta Guise advises executives, consultants and small business owners on building their personal brand and reputation as authorities in their fields of expertise, and making the world a better place. She also guides clients on strategies for growth.
Guise is the founder of FemResources, a start-up nonprofit whose mission is gender equality in the tech workforce and advancing women's careers in technology and engineering. She's an accredited delegate and speaker who represents San Francisco at the UN Commission on the Status of Women meetings at the United Nations.
Her opinions have been published in such publications as the San Francisco Chronicle, Sacramento Bee, BusinessWeek, Fortune magazine, and the Wall Street Journal. She's currently writing a book on personal branding and becoming a thought leader.
When she's not advising clients, you'll find Roberta swimming in the frigid waters of San Francisco Bay, going to a jazz concert, or out on the trails watching and listening for birds.
Schedule:
6:00pm - 6:30pm = Open Networking (nibbles will be served)
6:30pm - 7:30pm = Speaker Presentation
Golden Hour Networking is a monthly networking event held on the 3rd Wednesday of every month. RSVP required to gain access to the building. You must be on the list to attend. Bring valid ID to gain access to the building.