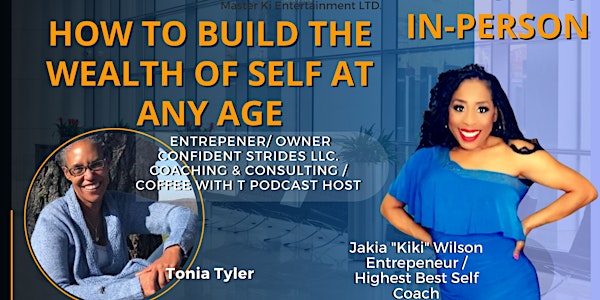 How to Build The Wealth Of Self At Any Age- Workshop
No matter how old you are, as long as there is breath in your body, YOU are entitled to acquire the Wealth that lies within you. You Ready?
When and where
Location
8268 N Main St 8268 North Main Street Dayton, OH 45415
Refund Policy
Contact the organizer to request a refund.
Eventbrite's fee is nonrefundable.
About this event
Do you feel like life is passing you by? Are you stagnant, are you stuck, Have you lost your creative flow? Maybe you feel uninspired, unmotived, and depleted. No matter where you are, what's going on, if you're old or young, own a business or not. On the inside of us are hidden gifts and abilities we often don't tap into. As human beings, we are designed to do incredible things in extraordinary ways, and how we do that is dependent upon how much we know about ourselves and our individual capabilities. How do you know what you can do if you never search yourself to see what you are fully made of? Often, times the fear that we are more powerful beyond our thoughts, prevents us from looking inward. we allow what others say and do to dictate what we do, instead of being bold enough to live our lives our way. We rather not deal with the responsibility greatness comes with. No matter where we are in our lives it's never too late to tap into our hidden abilities. Aren't you ready for more? How To Build The Wealth Of Self At Any Age Workshop is just what you have been waiting for. During the course of this workshop, we will uncover key factors that have caused us to be stuck and stagnant; as we break down practical ways to get us on track and refueled for the life we want.
No matter where we are in life we can ALWAYS be better and have more!
As people at our core, we all just want to be happy and enjoy the journey of this one life we have the wonderful opportunity to live. I don't believe any of us want to be miserable, discontented, and unhappy with our choices. We can change and totally transform our lives in such a way that we will naturally automatically attract the things we want. By simply discovering our hidden gifts, we begin to unleash the flow of our heart's desires. Isn't there a desire you so desperately want to obtain? What if I told you it's STILL not too late? That you can still live a fulfilled life at 20, 30,40, 50, 60, 70, 80, or 90 years old? No matter how old you are we can still reinvent ourselves, and we should.
We are so excited to share with you key principles we have learned that totally transformed lives in a profound way. I have NEVER felt better, more alive, and more in line with my purpose, and I am ready to share it with YOU! Join me and my very special guest Mrs. Tonia Tyler owner of Confident Strides LLC. As she shares how she stepped out of her comfort zone to begin to start her business and how he former military experience and background in social media management gave her the confidence she needed to not just get started but take off running. You definitely don't want to miss the nuggets this lady will be throwing out.
No matter where we began, where we are, or what we have or don't have; We All carry a desire to become our Highest Best Self and we are here to cheer you on and share what we have learned on our similar quest to be the best we can be.
This 3 =hour workshop is full of information that will not just assist you in locating your gifts but get you started in using them as well.
By uncovering How to reinvent ourselves at any age we immediately search inward and automatically begin to see how to Maximize our life right where we are. While we realize how to Overcome the fear factors that have kept us stagnant, we then start to recognize who we are, what we have, and how to implement those abilities to evolve ourselves and transform our lives at the same time.
Are you excited yet? Grab a buddy, sister, brother, mother, cousin, daddy, or friend and step out of your norm and come vibe, learn and grow with people so positive you can't help but be impacted in an awesome way!
Registration Includes:
All Lesson Materials
Brunch and Mimosas
Networking opportunities and more
Saturday August 27,2022 From 11 am - 2pm
Ray's Wine Spirits Grill
8268 N. Main Street
Clayton, Ohio 45415
Becoming Our Highest Best Selves TOGETHER!!
Can't wait to meet you!! See you there!
Save 10% with #SELFWEALTH