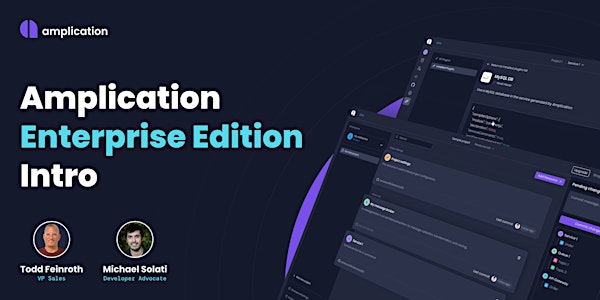 How to Build Nodejs Apps Faster With Amplication?
Introduce and demonstrate the features, capabilities and benefits of Amplication's Enterprise Edition.
Date and time
Wednesday, March 29 · 9 - 9:45am PDT
About this event
Amplication is an open-source SaaS backend development platform that empowers developers and software engineers to accelerate the development of their Node.js applications. With Amplication, teams can build critical applications faster, more reliably, and with greater consistency, resulting in increased productivity and a more streamlined development process.
In response to the overwhelming demand from our user community and enterprise supporters, we have released a fully featured commercial offering for enterprises that need a more robust solution to address security, integrations, privacy, tech support.
Our Speakers:
Todd Feinroth - VP Sales
Michael Solati - Developer Advocate
What is amplication in short:
Agenda
Demo/Attendee Questions/Survey Results