Event Information
Refund policy
Contact the organizer to request a refund.
Eventbrite's fee is nonrefundable.
Live and interactive session that dives into key issues around building a tech strategy ... Purpose, Goal Setting, Planning, Budget
About this event
Live and interactive masterclass with breakout sessions and the following steps;
Step 1
INTRODUCTION What is the purpose of your strategy document?
Step 2
GOAL SETTING
1. Create Tech goals aligned with company strategy and business plan.
2. Explanation of the thought process needed to finalise your goals and decisions you need to make to meet the business plan.
3. Group discussion on what are not acceptable goals vs general technology operational activities
4. Creating milestones that continuously deliver business impact over 12 months.
Breakout: Brainstorming your tech goals. Groups proactively critique each other.
Step 3
PLANNING
1. Moving thought process towards deliverable goals and milestones
2. What projects are needed to meet 12 month milestones
3. Overlaying your operational commitments
4. Break down of skills and resources needed to execute project roadmap
Breakout: Critique current teams again the technology goals.. Being critical of current skill gaps and conversely oversubscribed resources.
Step 4
BUDGET
1. Projects and people and ongoing work equates to a technology budget.
2. Pulling together breakdown of people costs, project costs, software & hardware costs for both Capex and Opex
3. Considering cost options to deliver against the strategy
4. Strategy impact vs cost restraints
Step 5
ROUND UP
1. Strategy audience
2. What happens after the strategy doc is approved
3. Wrap up Q&A
LIMITED PLACES / LOTS OF SHARED KNOWLEDGE
There will be a maximum of 20 technology leaders attending this masterclass.
Means you will get lots of opportunity to ask Sanjay direct questions and there will be live breakout sessions to discuss and exchange high value insight about this topic
KEY TAKEAWAYS
✅ Learn to interpret the business plan and how it should shape the tech strategy
✅ Run through the process to turn high level goals into milestones
✅ Create 12 month roadmap, skills gap analysis, resourcing plan and budget
✅ Develop skills to be able to convey your technology vision to non-tech audience
✅ Go through thought process to validate your strategy
✅ Develop systematic method to create presentation to the board
Added Note : Why Strategy Really Matters
A Strategy document is the outcome of making multiple decisions that help guide your business to meet its goals.
This is not a technical paper, it is a document that conveys to key stakeholders (Exec's, Board, investors) that the technology of the business is under good stewardship and is fully aligned with the business plan and wider corporate goals.
It's a document that lets you explicitly lay out your plan by using a process to continually break down the component steps needed to meet your goals within operational and financial constraints.
It's the starting point and guide to all product development, hiring and project activity your team should be conducting to meet the agreed strategy.
By setting out this strategy you will align your Exec teams mates and your department all to be pulling in the same direction.
About Your Host
Sanjay is a CTO/COO with particular experience in directing the design, development and launch of scalable and robust software solutions. He is particularly skilled in providing expert technical advice on software design and development, from pre-sales consultation through to implementation and launch in UK, European and Middle Eastern Markets.
He has led architecture and DevOps, driving knowledge sharing, skills development and accountability within the team but also combines that with a high level of technical expertise, commercial acumen and stakeholder management.
He has been a senior leadership coach at CTO Academy since 2019 coaching tech leaders around the world and hosting CTO Academy Tribes, our group coaching programme.
PS - We limit our masterclass to a maximum of 20 people so that everyone gets a chance to contribute, engage and share the huge amount of knowledge around our virtual masterclass table.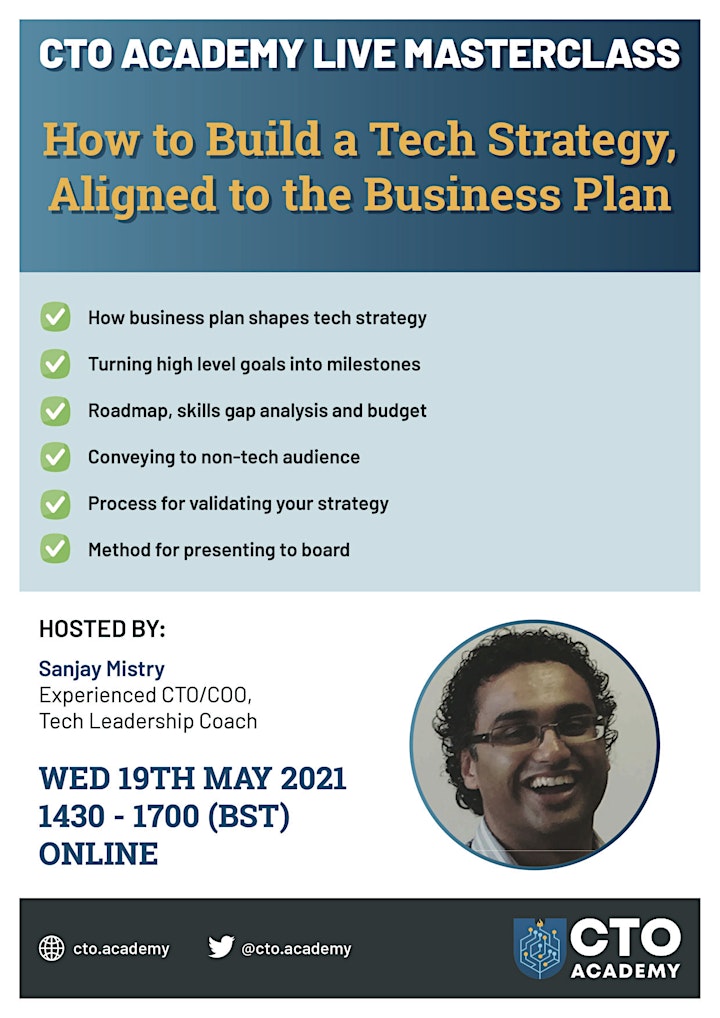 Date and time
Location
Refund policy
Contact the organizer to request a refund.
Eventbrite's fee is nonrefundable.