How to Become the Creative Writer You Want to Be with Leonard Perlmutter
Explore how the human mind can access reserves of creative energy & will power to transform writer's block into a rewarding stepping stone.
About this event
*Workshop will be conducted on Zoom. Link to the Zoom meeting will be shared with registered participants before the workshop or click "View the Event" in your order confirmation.
This PowerPoint/Q&A is a practical and easy-to-understand presentation describing how the human mind can reliably access strategic reserves of creative energy and will power to transform writer's block into a rewarding stepping stone.
Leonard Perlmutter (Ram Lev) is the founder of The American Meditation Institute, originator of National Conscience Month and author of the new book, "YOUR CONSCIENCE: The Key to Unlock Limitless Wisdom and Creativity and Solve All of Life's Challenges." Mr. Perlmutter's first book, The Heart and Science of Yoga® received six major Book of the Year awards, and was endorsed by Dean Ornish MD, Dr. Oz, and Bernie Siegel MD. Since 1996 Leonard has served as the editor of "Transformation" the journal of Yoga Science as Holistic Mind/Body Medicine. He has taught workshops on the benefits of the conscience, meditation and Yoga Science at the M.D. Anderson Cancer Center, Kaiser Permanente, Uconn School of Medicine, The New York Times Forum on Yoga, the Commonwealth Club of California, the Washington University Medical School, the University of Colorado Medical School and the U.S. Military Academy at West Point Association of Graduates. Since 2009, Leonard's Foundation Course on Yoga Science has been certified for continuing medical education credits by the American Medical Association and the American Nurses Association.
This virtual workshop is a featured event of the Albany Book Festival.
Special thanks to our Albany Book Festival Sponsors:
Premier: Bruce Piasecki & The Creative Force Fund
Presenting: Pernille Ægidius Dake; George and Kathleen McNamee; Renaissance Corporation of Albany; Charles Touhey and Alice Green; University Auxiliary Services
Supporting: Ellen Jabbur; Stuyvesant Plaza; Times Union
Friend: Laurie Bank and Stuart Freyer; The Book House of Stuyvesant Plaza/ Susan Novotny; A. Andrew Casano, MD & Bella Pipas; Bernard F. Conners Foundation; CDPHP; Fenimore Asset Management / FAM Funds; Doris Fischer Malesardi; The Foy Fund; Henry Greenberg; Paul and Mary Grondahl; Heslin Rothenberg Farley & Mesiti P.C.; William and Dana Kennedy; William & Mary Jean Krackeler; Betsy Lopez; Mackin & Casey; Modern Press; Jeffrey Pollard / Janney Montgomery Scott, LLC; Roberta and Bob Redmond; Mary Scanlan; Herb and Cynthia Shultz; Jim and Teresa Stellar; Steve McKee Foundation; UAlbany William L. Reese Emeritus Center Three Voices Grant Program
For more information on the Albany Book Festival, visit: https://www.albanybookfestival.com/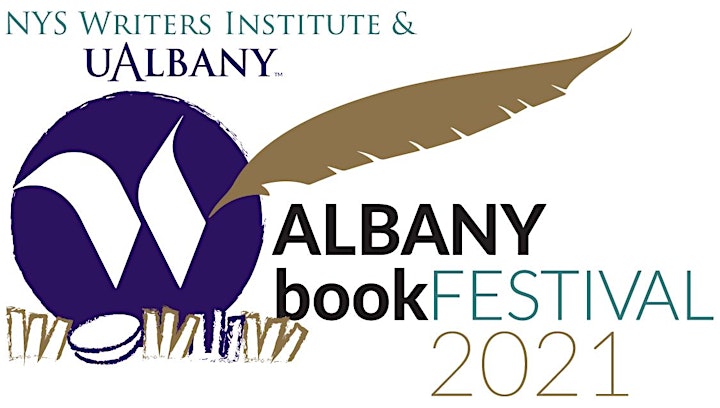 Organizer of How to Become the Creative Writer You Want to Be with Leonard Perlmutter
The New York State Writers Institute, based at the University at Albany, has brought more than 2,000 acclaimed writers and filmmakers to Albany for readings, lectures, book signings, and panel discussions. The state-funded non-profit organization encourages residents in the Capital Region to attend its events and help it fulfill its mission to enhance and celebrate literature, writing, and performance, and to recognize the position of writers as a community within the larger community.